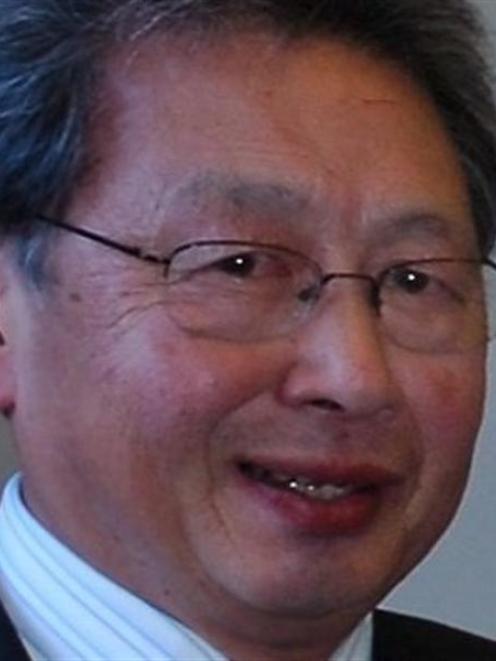 Former Dunedin mayor Peter Chin says he is ''chuffed'' to be selected for a 12-strong panel tasked with overseeing a review of the New Zealand flag.
Mr Chin (73), Dunedin mayor from 2004-10, was yesterday named with 11 others - including prominent New Zealand businessmen, academics, sportsmen and military figures - to sit on the Flag Consideration Panel.
Mr Chin told the Otago Daily Times he was looking forward to the role and hoped public interest in the debate would be ''huge''.
''As with any public consultation on any issues of moment, you are going to get views from all points of the spectrum.
''The challenge will be for the panel to be able to listen to all those and be able to deal with them,'' he said.
Mr Chin would not discuss his own views on the flag, or the merits of changing it, ahead of the panel's first meeting in Wellington next week.
But he had ''no difficulties'' taking on another high-profile public debate while still recovering from bypass surgery following his collapse on an Air New Zealand flight on New Year's Eve.
Mr Chin said he was ''kind of a new Peter Chin'' and was feeling ''about 90%'' better.
''I suppose I'm grateful to have the opportunity to be involved,'' he said.
Mr Chin said he had been invited to put his name forward for the panel, and was advised a few days ago he had been successful.
He will sit alongside Xero chief executive Rod Drury, Olympian Beatrice Faumuina, former New Zealand Defence Force chief Lieutenant-general (Rtd) Rhys Jones, former All Black captain and coach Sir Brian Lochore, Saatchi and Saatchi New Zealand chief executive Nicky Bell, television executive Julie Christie, Invercargill Youth Council member Stephen Jones, academic and flag historian Malcolm Mulholland and Maori studies academic Hana O'Regan.
The panel's chairman will be Emeritus Prof John Burrows, who worked alongside Mr Chin on the Constitutional Advisory Panel.
Writer and reviewer Kate de Goldi will be deputy chairwoman. Deputy Prime Minister Bill English said panel members had been selected by a cross-party group of MPs and he was pleased with the ''independence, calibre and experience'' of those appointed.
The panel would oversee a public process beginning in May that would give New Zealanders ''the rare privilege of having a say on one of the most important symbols of our nation'', Mr English said.
The panel would call for designs or ideas for an alternative flag to be submitted, and draw up a short list of the best designs to go forward to a postal referendum using a preferential voting system.
The winning design would then be ''run off'' against the existing New Zealand flag in a second, binding referendum, using the first past the post system, Mr English said.