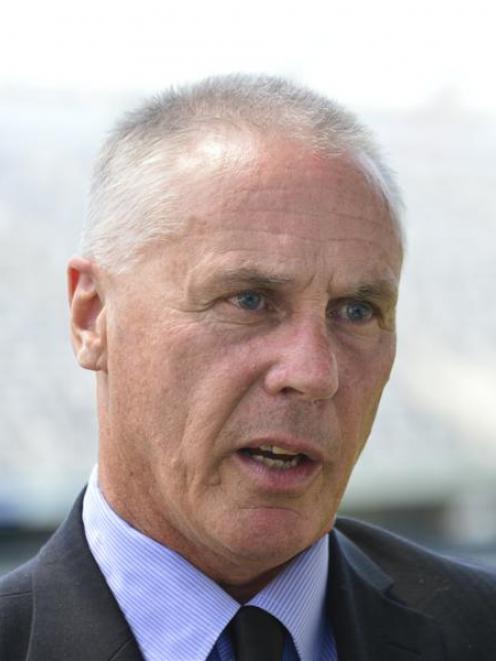 Dunedin remains in the running to host matches during the 2015 Fifa Under-20 World Cup as an announcement by tournament organisers approaches, Mayor Dave Cull has confirmed.
Mr Cull told the Otago Daily Times there had been ''a lot of goodwill'' on display during discussions with Fifa, tournament officials and Football South representatives in recent months.
As a result, an announcement by Fifa expected in ''a week or so'' could still result in matches allocated to Forsyth Barr Stadium in Dunedin, Mr Cull said.
''[The] council has had discussions with the relevant parties with a view to finding a way forward that suited everyone, that enabled games here, despite the fact that we pulled our official bid.
''The outcome of those discussions would be the subject of the upcoming Fifa announcements,'' he said.
Pressed on whether there might yet be a favourable outcome for Dunedin, Mr Cull said: ''There could be.''
Tournament interim project manager Peter O'Hara also confirmed an announcement on hosting rights was expected in about two weeks.
He would not say specifically whether Dunedin remained in the running, or was likely to feature when hosting rights were announced, but hinted at a positive outcome.
''We've always been very keen for Dunedin to be involved.
''I can confirm that certainly we're looking at cities in the South Island,'' he said, before repeating ''cities in the South Island''.
The update came after months of behind-the-scenes meetings and negotiations since it emerged in January the council had quietly dropped Dunedin's official bid.
That decision came amid concerns the council's share of tournament costs could more than double, to more than $1 million.
Mr Cull said at the time the business case for hosting the event ''simply doesn't stack up'', but the council had instead offered Fifa use of the stadium at little or no cost to the council.
Since then, it had been suggested Dunedin might be in the running for a reduced number of games, perhaps as many as six, including a quarterfinal.
That was still a step down from earlier talk, which included whether Dunedin could host the final.
Football South had also established a trust to try to finance the city's share of tournament costs through private and corporate donations, although the sum raised has not been disclosed.
Mr Cull would not discuss details of any revised match package yesterday, and nor would he say if the council - and city ratepayers - could yet be presented with a bill for hosting matches.
''I'm not going to go into that now, but that will all be made public when, and if, Fifa make an announcement.''
Football South chairman Dougal McGowan also declined to comment when contacted, referring questions to the council.
Mr O'Hara said the organising committee's work was reaching the ''sharp end'', but the event was ''coming together''.
No date for an announcement of hosting rights had been set, but organisers were ''very, very close'' to having all signed agreements with host cities in place, he said.
''We've got firm offers in from a number of cities - certainly enough to ensure that we've had a good choice between cities to make.
''We have virtually resolved all issues with all cities that we're talking to. There's nothing hugely outstanding at this moment.''