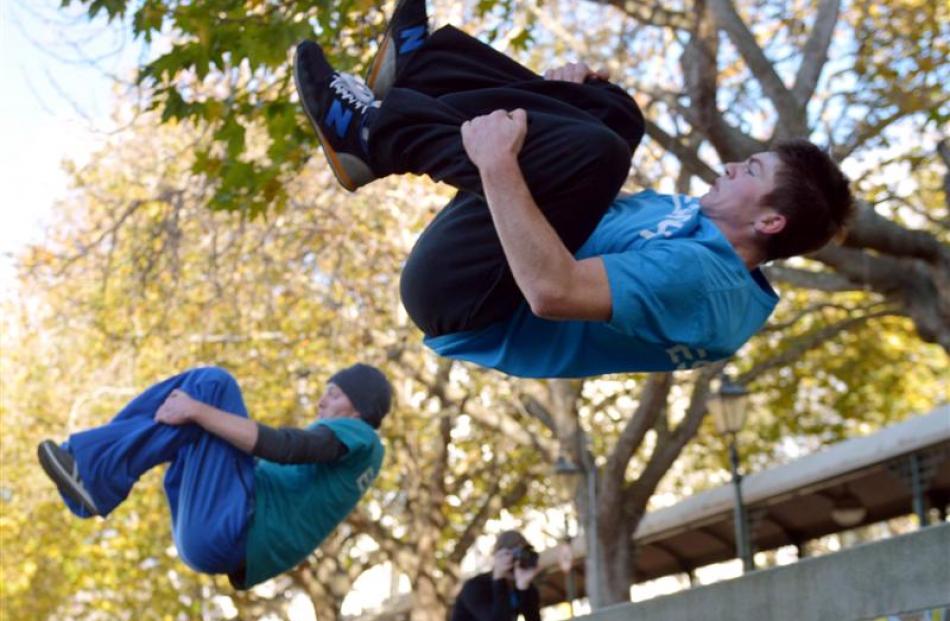 Seemingly mundane inner-city locations were transformed into demanding obstacle courses in Dunedin at the weekend.
About 50 people from around New Zealand and further afield were in the city for the sixth annual New Zealand Parkour Association gathering.
Parkour started in France in the late 1980s and was developed from military obstacle course training as a method of getting from A to B in the most efficient way possible.
The practitioners who came to Dunedin had a determined eye for finding environments to jump, swing or vault over, mixing it up between landmarks such as the Octagon and seemingly mundane locations.
On Saturday, an everyday city car park became a place to test and hone their skills and at one point the group became distracted by the entrance to an inner city building.
Dunedin parkour enthusiast Alex Pearson (28), who was among the group, said he looked at the world through a different set of eyes since taking up the activity.
''I can't walk past somewhere without looking for what I could do.''
Mr Pearson, formerly a gymnast, was inspired to start the activity after seeing online some of the amazing feats of overseas practitioners who hop from building to building. It was the freedom that made it so attractive.
''In gymnastics, you have to do things a certain way; you will be marked out of 10 sort of thing.''
Whereas with parkour, you could ''make it your own'' and it was more about personal expression.
The activity was growing in popularity in Dunedin and bringing boys into the Dunedin Gymnastic Academy, where he taught it to about 50 children.
There were also a few people in Dunedin who hopped around on top of the city's buildings, like they did in Europe, but they kept it pretty ''discreet''.
''You don't say too much, because people don't want you on their roofs.''
Rhys Kirk (19), who came all the way from Townsville, in Australia, was impressed by the level of skill on show.