Lunch was a laugh yesterday. I caught up with comedians Stella Graham, Matiaha Paku, Irene Pink and Justine Smith to find out about the business of being funny and life on the fringe.
It was a lunchbreak filled with deliciously funny sound bites.
"Every night, before I go on, I question why I'm doing it. But, every night, afterwards, I'm glad that I did," Smith admits.
"Comedy is a way to release your anger at the world," Pink says.
"It can be carthartic. But, at the end of the day, if you're not making people laugh you should really just go and take a valium."
"It's also a good platform if you're a show-off," Smith adds.
And the others nod earnestly in agreement.
But, comedians can experience life and death on stage.
"I replied to a heckler at the back of the room once that turned out to be be someone having a fit. That would be my worst moment," Paku groans.
"I offended the Australian Piano Tuners convention with a swear word so much they made me get off the stage," Pink says.
"It was 7.20pm on November 2, 1998, at the Travelodge in Auckland. I'll never forget it."
"Dirty is funny, but you've got to get to know the crowd first. Once they like you, you can start with the filth," Smith says.
"I've always wanted to call a show 'Pretty dress, dirty mouth'."
The others tease English comic Graham about the elephant symbol on her Coventry City Football Club scarf.
"If you'd been to Coventry, you'd understand," she patiently explains.
"You see the elephants in town every Saturday night dressed in miniskirts."
Stella Graham appears in Karma Comedian at 7pm, Irene Pink and Justine Smith in I'm Sorry I said That at 8.30pm and Matiaha Paku in Top to Tail at 10pm at the Comedy Club at XII Below today and tomorrow.
Graham also teams up with Ben Hurley at 11 this morning at Bennu to give free comedy tips to aspiring stand-up comics and anyone who likes a laugh.
The curtain comes down on the Fringe tomorrow, but there's still a weekend of fun to be had.
The marauding Tablo Presents! puppets continue to roam the Otago Farmers Market today and the Octagon tomorrow, while Mark "Slim Pickens" O'Neill rolls out Pick of the Fringe for the last time at noon in the Octagon today.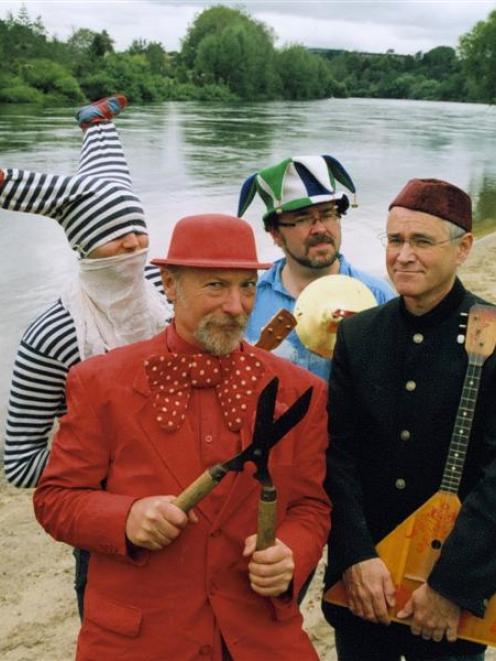 Dunedin's Dance Lab weaves and wends a medley of choreographic works through campus in
Chocolate Zucchini Cookies
at the School of Physical Education at 1.30pm and 7pm and the "Lines of Flight" experimental music and film festival continues from 2pm today in the Port Chalmers Masonic Lodge with the Forgotten Guests, Alastair Galbraith, Peter Wright, Antony Milton and David Kahn and, from 8pm, tomorrow at Chick's Hotel with Stanier Black-Five, Pumice, Rosy Parlane and The Futurians.
The South Auckland Poets Collective shares its raw, streetwise stories in Something Worth Seeing? at Burns Hall at 7.30pm, before the final Festival Club at Bennu, with Goulash Archipelago, The Maybe Pile and comedian Irene Pink from 10pm.
The Big Muffin Serious Band takes centre stage tomorrow, with its riotous Complete Ukulele Workshop at Bennu Restaurant at 1pm and the Muffins then lead the entertainment parade at the traditional festival awards at 7pm at Bennu Restaurant.
Fringe this weekend
Today
• Daily: A Boy had a Mouth Full of Glitter (Chipmunks car park)
• Daily: Who Let the Monkeys Out (Queen's Garden)
• 9am: Tablo Presents! (Otago Farmers' Market)
• 9am-5pm: Bloodlines and Bloodstains (School of Art Gallery)
• 9am-5pm: Cooee (Stairwell, 130 Stuart St, top floor)
• 10am-5pm: From The Mountains To The Sea (Tangente Cafè)
• 10.30-6pm: Pattern and Paradox (Gallery on Blueskin)
• 11am: Comedy Forum (Bennu Restaurant)
• Noon: Pick of The Fringe (Octagon)
• Noon-6pm: YYYEEESSS (284 Princes St)
• 1.30pm and 7pm: Chocolate Zucchini Cookies (School of Physical Education)
• 2pm and 8pm: Lines of Flight (Chick's Hotel and Masonic Lodge)
• 2pm and 7pm: Drowning in Veronica Lake (The Globe Theatre)
• 4pm: Capturing Other (Fortune Theatre Studio)
• 6pm: Mates and Lovers (Fortune Theatre Mainstage)
• 7pm: Karma Comedian (Comedy Club, XII Below)
• 7.30pm: Something Worth Seeing? (Burns Hall)
• 8.30pm: Irene Pink and Justine Smith in I'm Sorry I Said That (Comedy Club, XII Below)
• 9pm: The Visitor (The Globe Theatre)
• 10pm: Top to Tail (Comedy Club, XII Below)
• 10pm: Festival Club (Bennu Restaurant)
Tomorrow
• Daily: A Boy had a Mouth Full of Glitter (Chipmunks car park)
• Daily: Who Let the Monkeys Out (Queen's Garden)
• 9am-5pm: Bloodlines and Bloodstains (School of Art Gallery)
• 9am-5pm: Cooee (Stairwell, 130 Stuart St, top floor)
• 10am-5pm: From The Mountains To The Sea (Tangente Cafè)
• 10.30-6pm: Pattern and Paradox (Gallery on Blueskin)
• 11am: Tablo Presents! (Octagon)
• Noon-6pm: YYYEEESSS (284 Princes St)
• 1pm: The Complete Ukulele Workshop (Bennu Restaurant)
• 2pm: Drowning in Veronica Lake (The Globe Theatre)
• 7pm: Fringe Awards (Festival Club, Bennu)
---