The Kiwi bloke caricature will never be the same again.
Coming out on stage at the Fringe Festival today is an acclaimed play about the history of homosexuality in New Zealand.
Mates and Lovers explores how gay sexual identity has developed and evolved since the mid-19th century.
The play is based on University of Otago gender studies senior lecturer Chris Brickell's Montana Award-winning book Mates and Lovers: A History of Gay New Zealand.
"I knew the book would be chocka full of stories that would hit people in the heart and head," Wellington writer, producer and director Ronald Trifero Nelson told me yesterday.
"They're stories that haven't been told on stage yet.
"Men who have sex with men is hidden and repressed in New Zealand.
"We're talking about the stories of generations of men in New Zealand, so it's a pretty earnest affair," Nelson said.
"People have only been able to be loud and proud for the last 40 years, whether you're straight or gay."
The play has been variously described as "warm-hearted, cheeky, hot-headed, funny, sad, poignant and liberating."
It looks at former gay "cruising" hang-outs in Dunedin, such as the Sirocco Cafe, Queens Gardens, Exchange, St Kilda Beach, North Ground and the Town Belt.
"There's also a story that happened at Seacliff asylum."
The play had found favour with audiences of all sexual orientations, Nelson said.
"I'd say that less than half our audience is gay.
"There's some skin and a lot of talk about sex and portrayals of sex, but it's not a [boobs and bums] show.
"We're not after that.
"I think it's a play all New Zealanders should see."
Mates and Lovers opens at 8 tonight on the Fortune Theatre main stage.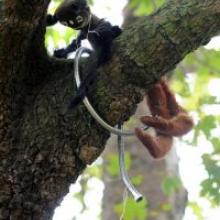 • There's been some monkeying around at Queens Gardens, where Avis Hunter and Andrew Keogh have brought their 2009 picture book
I Let the Monkeys Out
to life in an installation about the colony of monkeys once kept at the Dunedin Botanic Garden.
The monkeys will be in the trees until Sunday.
• An interesting performance work takes place at 5.30pm today at the Blue Oyster Project Art Space, where an artist will be trying to fill people's pockets, rather than empty them.
Colleen Altagracia will inject expanding casting foam into volunteers' empty pockets in The Fullness of Empty Pockets.
"The foamworks are like living sculpture," Altagracia said yesterday.
"I wanted to record the moment of interaction, when the empty space of the pocket suddenly fills with the foam and the performers' response to it."
• Theatre also continues today, with the Alpacas' Sunday Roast being served up at 7pm at the Globe Theatre, while Once Was is on at The Theatre As Is at 9pm.
• Meanwhile, the Otago School of Art hosts Desi Liversage's haunting tribute to her great-grandmother, who spent her childhood in a concentration camp.
Bloodlines and Bloodstains is on from 9am till 5pm daily.