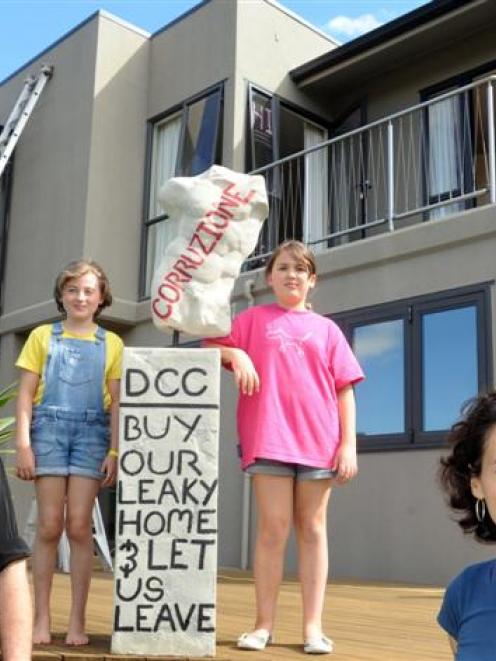 The owners of a more than half-million-dollar leaky home in North Dunedin have reached a settlement with the Dunedin City Council after more than a year fighting for "a way out".
Council staff have declined to discuss details of the agreement, including whether a mistake has been acknowledged or if public money was spent on the deal.
Deborah Wai Kapohe, husband Michael Beazley and their two daughters had been seeking a settlement since discovering flaws in their $550,000 house at 36 Leithton Close, Glenleith, in late 2010.
Their house was declared a leaky home in April last year, following an inspection by a Weathertight Homes Resolution Service assessor.
The couple bought the house after checking it had a code of compliance certificate issued by the council, certifying it met Building Code requirements.
They blamed council staff for signing off on the home, despite design flaws the couple believed should have been picked up.
Their fight for a resolution has dragged on since, but council chief building control officer Neil McLeod yesterday confirmed a settlement had been reached at mediation talks held in Dunedin last week.
The talks involved Mr McLeod, Ms Wai Kapohe and Mr Beazley, representatives from other parties involved in the claim, and "lots of lawyers", Mr McLeod said.
He declined to divulge any details, saying a confidentiality agreement prevented discussion of the deal by any of the parties.
Cr Lee Vandervis said he believed the refusal to release details might be to protect the council from further claims.
"If we have made a serious mistake, and have had to pay serious money as a result, I certainly want to find out what that amount is.
"I want to make sure that we have learnt appropriately from what sounds like possibly an expensive education."
In 2010, Mr McLeod confirmed the council had reached settlements totalling $182,000 with two other leaky home owners after council building inspectors failed to pick up on faults that led to leaky-home problems.
Asked yesterday why the latest settlement could not be made public, Mr McLeod would only say: 'This one is confidential. That is the difference. I simply cannot speak about it."
Dunedin Mayor Dave Cull, who met the family to discuss their concerns last year, was unaware, until contacted yesterday, a settlement had been reached, but said he was "delighted" it had been resolved for the family.
Ms Wai Kapohe and Mr Beazley, who are understood to be living in the North Island, did not respond to calls or emails.