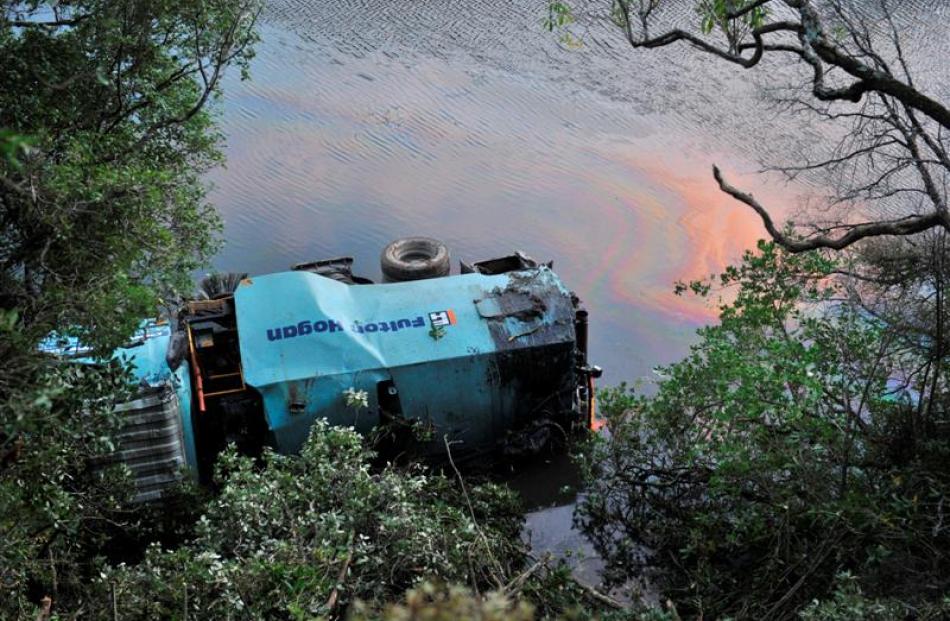 A man escaped with minor injuries after the Fulton Hogan truck he was driving rolled about 25m down a bank into a Brighton creek, near Dunedin, yesterday.
Emergency services were called when the gutter-cleaning ''sludge'' truck rolled off McIntosh Rd into Otokia Creek about 4.30pm.
A St John ambulance spokesman said the male driver was transported to Dunedin Hospital with minor facial injuries.
The truck rested in the creek on its passenger side, beeping, hazard lights flashing and its engine running, as a fluid created an iridescent sheen on the creek water.
A truck width of trees and bush were flattened on the bank.
Lookout Point and Roslyn Fire Station crew told Fulton Hogan management when they arrived that they could do little to help salvage the truck.
Fulton Hogan Dunedin manager Richard Fulton said he was glad no-one had been injured in the incident.
Bath St resident Jocelyn McIver said she was talking on the phone to her daughter, when she looked out the window and saw a ''big blue truck banging up the road'' across the creek from her home.
''Then I heard an almighty bang and said to my daughter, `there's a truck in the river'.''
While on the phone to emergency services, she saw the driver sitting beside the truck and then climb up the bank and walk up the road.
Mrs McIver said she had walked along McIntosh Rd last week and talked with her husband, Graeme, about the narrowness of the road and how it was a wonder somebody had not slid down the bank.
The truck was left in place for the night, she said.
In 2011, two Delta contractors escaped injury when their truck went down a bank in McIntosh Rd during weed-spraying.