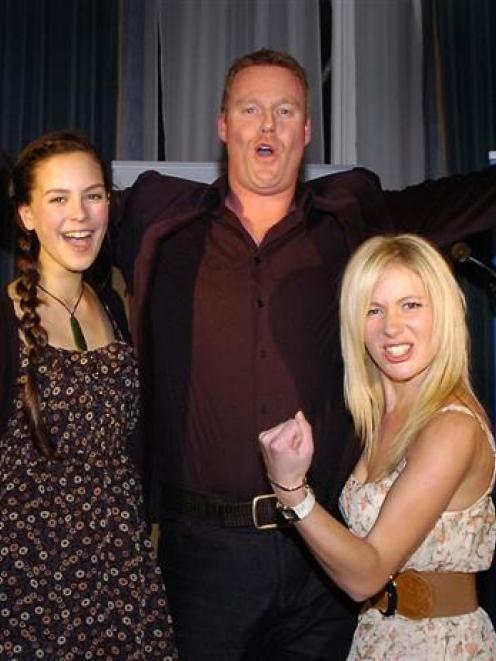 A trio of Dunedin singers gave a preview last night of what is being billed as the biggest party in Otago's history.
Simon Green, Georgie Daniell (18) and Sequoia Cunningham (15) are three of the guest artists for the Otago Daily Times Big Night In concert on November 12 and had the crowd enthralled with their solo performances at the official cast announcement held in the Southern Cross Hotel, hosted by Dunedin Casino, last night.
The Big Night In, at the Forsyth Barr Stadium, will feature some of the best singers, dancers and entertainers in the region.
The concert was a thank-you to the Otago community for 150 years of support, Allied Press managing-director Julian Smith said.
"It's about putting something back into the community and showing off the talent in our region," he said.
The concert has been sanctioned by the Dunedin City Council as the opening community event at the new stadium.
Dunedin Mayor Dave Cull said he hoped the concert would become an annual event.
"It's going to be a fantastic event that's going to be remembered and emulated for some time to come," he said.
"The stadium has cost the community in more ways than one. This is an opportunity to celebrate our magnificent new venue and to say thank you to those who paid for it.
"It is a very significant facility - and not just for those of us south of the Waitaki - but for the whole South Island, until Christchurch gets back on its feet," he said.
"This concert is about enjoying the talented people in the region and giving our performers a chance to strut their stuff in the new venue."
Big Night In artistic producer Doug Kamo said he had been "absolutely inundated" with artists wanting to audition.
"There's been an incredible response and, hopefully, this will be the first of these concerts. We are the only city of our size in New Zealand that doesn't have a major community concert and it would be terrific to see this as part of the landscape in Dunedin."
The concert is being supported by naming sponsor Allied Press, the Dunedin City Council, Dunedin Venues Management Ltd and associate sponsor Deloitte.
The ODT was founded on November 15, 1861 by William Henry Cutten and Sir Julius Vogel.
The Big Night In will start at 5.30pm on Saturday, November 12, with a programme featuring community groups, followed by the OD Glee ensemble and two major acts, which are still to be announced.
The concert is free, but ticketed, with gold-coin donations being collected for the KidsCan charitable trust.