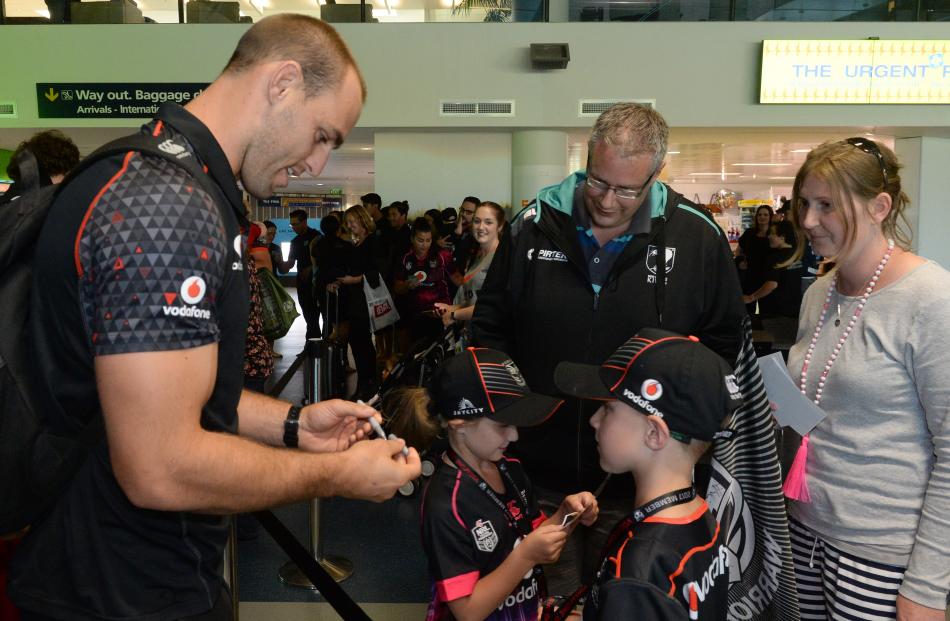 A group of die-hard rugby league fans were in heaven as their heroes arrived at Dunedin Airport yesterday evening.
Both the Canterbury Bankstown Bulldogs and the New Zealand Warriors were given a traditional Dunedin welcome, with a pipe band and kapa haka group there to greet them as they arrived within 90 minutes of each other.
The welcome comes ahead of the clash between the two sides tomorrow in the first NRL game to be played at Forsyth Barr Stadium.
A few dedicated Warriors fans came to the airport early to see the Bulldogs arrive and numbers had swelled to about 40 by the time Warriors arrived about 7pm.
Among the die-hard supporters was Alex Tavendale (8), of Dunedin, who was stoked after getting the signature of his hero Simon Mannering.
Alex was pumped ahead of the Warriors playing in his home town and was looking forward to showing the team how much he loved them.
He had met the players before and asked them to come to Dunedin for a game, so tomorrow would be a dream come true.
Sandra Bennett braved a cold and came out early so she could see the Bulldogs arrive.
She had been a Warriors fan for more than 15 years, but had never seen them play live, so tomorrow would be special.
Getting selfies with her 6-year-old daughter Lily Narayan, husband Wilson Narayan and some of their favourite players was also pretty special.
Sickness was not going to stop her welcoming the players to Dunedin.
''I don't want to miss a chance to see them.''