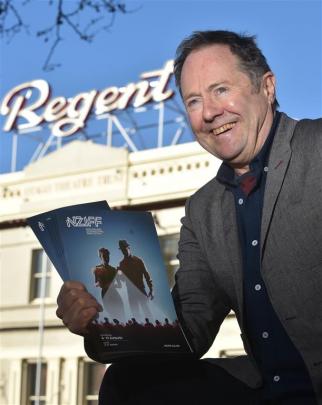 The "actioned-packed'' New Zealand International Film Festival programme for Dunedin and Gore has been launched.
Festival director Bill Gosden was in Dunedin yesterday to launch the festival programme of screenings at the Regent and Rialto cinemas between August 4 and 21.
A team of five people watched about 800 films to decide on a Dunedin programme of about 90 films.
"It's a big programme - it's action-packed; both venues have about five films a day.''
The countries "well represented'' in the programme were New Zealand, France, Italy and Latin America.
The programme was more varied than the offerings of past festivals, he said.
"There is something for everyone.''
The standout film of the festival was the "terrific'' New Zealand film Poi E: The Story of Our Song, which would open the festival.
The director, Tearepa Kahi, would attend the opening night in Dunedin.
"For most of the New Zealand films, the film-makers will be here to introduce the films and answer questions of the audience.''
The programme included several films from the Cannes Film Festival, including Palme d'Or winner the "heartwrenching drama'' I, Daniel Blake, directed by Ken Loach.
Another "Cannes hit'' at the festival was German comedy Toni Erdmann, dispelling any myth about Germans' inability to be funny, he said.
The festival survived without a principal sponsor because of strong ticket sales.
The sales contributed 88% of the festival's income last year, which was the best financial year ever for the festival.
"That is helpful - it means we go into this year with a financial cushion.''
Last year, more than 250,000 ticket-holders attended festival venues in 13 towns and cities around New Zealand.
• The Dunedin schedule can be viewed here