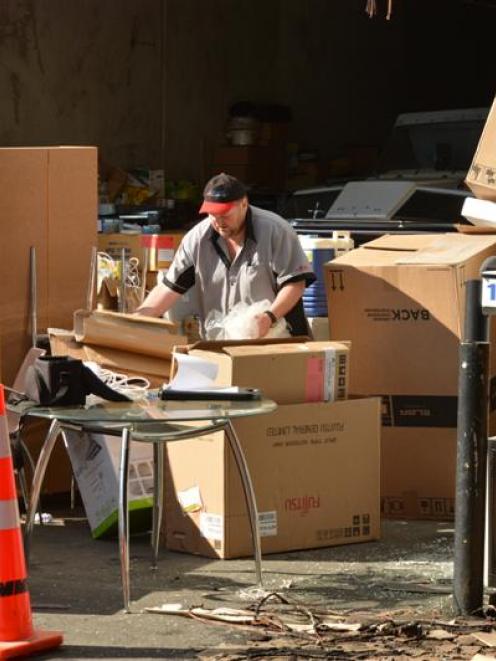 The actions of ''idiots'' will cost thousands of dollars.
A fire at South Dunedin business CT Electrical, which appeared to be deliberate, took hold of a carport area, gutting stock, the building's floor joists and sending acrid smoke into an office and nearby garage.
CT Electrical owner Aaron Carr said he estimated the cost of the fire to be between $40,000 and $50,000.
However, the cost could yet rise, as he had not assessed the extent of smoke damage from the fire, which started about 9pm on Monday at the Lorne St business.
Three other fires were lit in the area, including one near two 45kg lpg cylinders.
Swift's Coffee Time owner Brian Swift, whose business is beside Mr Carr's, said the fires ''could have been horrendous''.
The ''idiots'' stuffed cardboard and paper around his business' lpg cylinders and lit the material, Mr Swift said.
''[It could have been] a hell of a lot worse,'' he said.
''They could have killed themselves.
''They are obviously not that bloody clever to try and light a fire by the gas bottles.''
His business was undamaged and, apart from a ''pile of ashes'' around them, neither were the cylinders.
Mr Carr was philosophical about the damage to his business.
''It is what it is,'' he said.
''You can't sit around sulking about it.
''We have got to get on getting on.
''Nobody was hurt, that's the main thing.''
The business was fully insured, but he had some ''irreplaceable gear'' stored in the garage next to the carport.
''This whole area was filled with smoke,'' Mr Carr said, pointing at the garage.
''You could see the smoke coming out of the roller door.''
Fire Service fire investigator Michael Harrison said he believed the fires were deliberately lit.
He assessed the electrical wiring at Mr Carr's business and found no fault, he said.
The fire-starters were lucky their actions had not caused more damage or hurt anybody, he said.
Southern District Command Centre deployment co-ordinator Senior Sergeant Dave Scott said it appeared four fires were deliberately lit in Lorne and Broughton Sts.
Police wanted to speak to two youths seen running along Hillside Rd about the time of the fires.
One was wearing a red hoodie and the other was in a green hoodie and tan pants, he said.
Anyone with information was asked to contact Dunedin police on 471-4800. Information can also be provided anonymously to Crimestoppers on 0800 555 111.