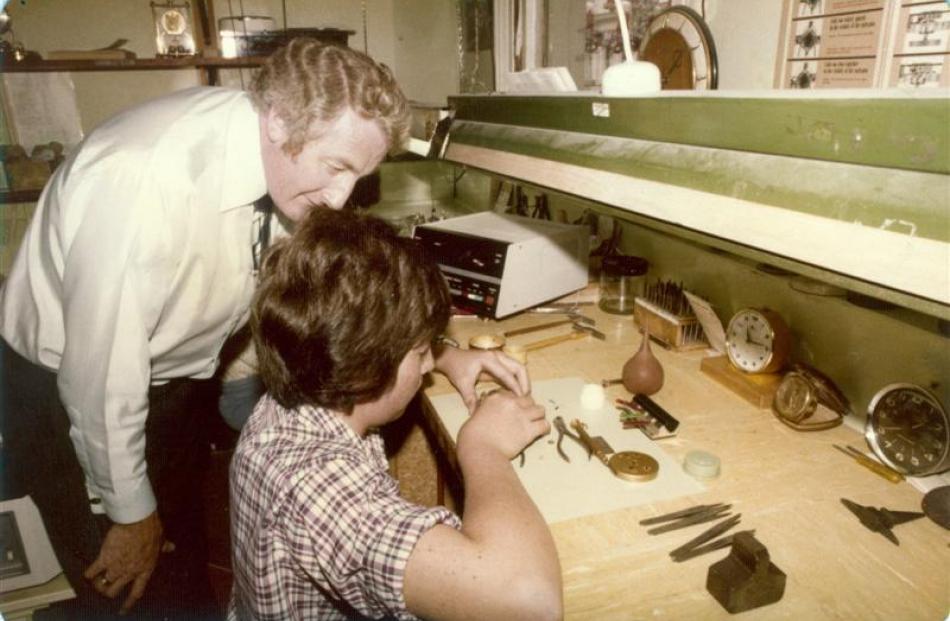 You can't choose your family, but you can choose whether to go into business with them, although sometimes getting out of business with them can be messy. Brent Weatherall talks to Debbie Porteous about how sharing a business philosophy with your family does not necessarily mean you can share a business.
Brent Weatherall refers to his father as Keith. Not dad or father. Just Keith.
Keith, he says, was a hard man and they were not close at the end.
In fact, Keith Weatherall never set foot in his son's jewellery store before his death in 2007.
He was intending to, Brent said; he just did not have the physical strength in his last days.
You get the sense Brent would have been chuffed to show his old man around his glitzy George St store; to show him how well he had done, that he could do it too.
Especially because just a few years earlier, Keith Weatherall fired his son.
After more than 20 years in the business, Brent was invited to a meeting with his father, where he was given a letter making him redundant.
Brent had worked for Keith since he was a runner on a bicycle making deliveries between Keith's Dunedin jewellery stores.
From the age of 12 he worked during school holidays in the workshop of Weatherall's flagship store in central George St, making tea and cleaning up. He eventually became an apprentice jeweller at 16, and finished his apprenticeship in three and-half years.
When Brent was 21, Keith made him the manager.
He had worked for the company for more than 20 years when his father, then in his late 60s, sacked him after an argument about how the business could be run differently.
Keith was a hard worker, and hard man, who tended to flash his success about, his son said.
''He was always saying 'In my day' this and that, 'we had to work so hard' etc. He used to ram it down people's throats.''
His father lived and breathed the work, although it had come at the cost of his family.
The older Weatherall started in business as a 22-year-old in 1956 with an upstairs workshop in the Octagon (he had learned the craft as an apprentice watchmaker with the Dick family business), from which he gradually got more into selling jewellery on behalf of wholesalers.
With the gift of the gab, he was soon too big for his workshop and bought a building at 278 George St in 1961, split it in two, sold one half and started Weatherall Jewellers in the other half.
He decided to source his own stock, and caught the travel bug.
''Jewellery opened his eyes to a whole new big world.''
He was soon bringing home diamonds, Dresden china, figurines and opals: his love of the latter developed into two- to three-week pilgrimages to Australia each year to go mining for opals.
While he was on his adventures and buying trips, his friend and store manager Bo Cockroft was running things in Dunedin.
In the 1970s Keith Weatherall was heavily into expansion.
He owned four stores in Dunedin and started jewellery stores within a store at DIC department stores in Dunedin, Hamilton and Christchurch.
At one point, he owned five stores plus the DIC outlets, and employed more than 20 people.
''He was impulsive and would act on a whim, and he was very successful.''
He still loved travelling the world, but had to rein it in after several incidents of staff stealing from him.
''I've often said to him, 'You've created a monster,' but he thought it was fantastic.''
In the 1980s Keith suddenly retrenched, retaining only the store in George St.
He moved into the Meridian mall in 1997 and traded there, working seven days a week until his retirement in 2005.
Being in the jewellery industry was like being in the mafia, Brent said. It was all in the family.
He started his career with the Weatherall name, and the family name was as important as anything else.
He had always wanted to be a jeweller.
''I never had a doubt. It was something I enjoyed; I was born into it. I'm still into it.''
His father had always focused on the nuts and bolts of the industry, and concentrated on providing a service.
''He had a slogan - `We sell the best and service the rest' - which I suppose is my philosophy. I do believe in it strongly.''
Through the years, he and his father had many differences of opinion with regards to how the shop was evolving.
He believed one of them had to go; he had simply not expected that one of them would be him.
''To my shock, he made me redundant. I was out of a job in April 2002.''
He did nothing for six months.
''I suppose I was soul-searching. I had to clear my head and I was in a state of shock; I had to take time out.''
But during that time, something was growing inside him.
''Keith Weatherall put a fire in my belly. I started to think to myself, `I'll show him'.''
His father had trained him well, taught him everything he knew, but it was time to do things his own way.
''In December 2002, I secured the lease on 153 George St. I went into the bank and asked for $100,000. My experience and skill was their security. I told them they were plan A and I went down to plan D ... which was crap, because I didn't even really have a plan B.''
He asked his father to be guarantor, but Keith refused.
He even refused to guarantee his son's shares in Weatherall Jewellers.
Finally, with a guarantee from his mother, Brent got the loan, but there was not enough for stock, so he used the Weatherall name with ''the mafia'', and come opening day had enough stock on consignment to fill his shiny new cases.
Knowing it was going to be a bone of contention, he deferred putting up the signs for his new store until opening day.
He received a letter from his father's lawyer two days before the opening, saying if he used the Weatherall name in the title, his father would sue him.
''I spent $800 I didn't have to get a legal opinion to make sure we were not going to be in trouble.''
For the first three years of trading, it was just him and his wife Jo, but since then they have expanded into what Brent says is now a multimillion-dollar venture.
He knows running an opposition store to his father's for three and a-half years must have hurt his father's business, but the pair did make amends before his father's death from cancer at age 74.
On reflection, he is well aware of the irony of his success.
''Although there was conflict between my father and me, and it was well publicised, I couldn't have done it without him. Although I also feel like he couldn't have done it without me.
''I only wish my father was alive today to see me ... and this,'' he said, indicating his store.
''He was coming, but he never set foot in the door; he wasn't strong enough to leave the hospice.
''I think he would have been very proud of what we've done. Keith definitely did it his way, but the time was right for Brent to do it, too.''