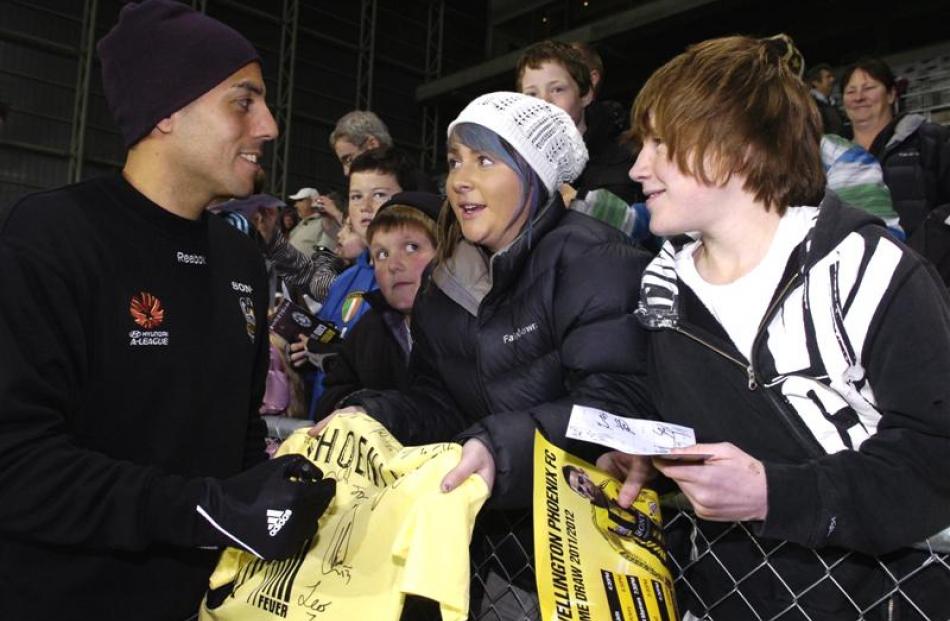 Football fans were out in force for a Wellington Phoenix training session in Dunedin yesterday, as anticipation builds for the beautiful game's big Otago outing at the Forsyth Barr Stadium at 5.30pm today.
"Yellow Fever" - the name of the Phoenix supporters club - seems set to sweep through Dunedin, with today's match likely to be a regional drawcard for southern fans of the round-ball code.
An estimated 300 fans thronged the stadium pitch sideline, braving chilly conditions to clamour for the players' autographs after the Phoenix team's training run last night.
Phoenix goalkeeper Mark Paston said he hoped the turnout from southern fans at yesterday's training would bode well for a large walk-up crowd for the match against Brisbane Roar.
The pitch surface and its synthetic fibre-threaded grass was similar to grounds which had been used at the Football World Cup in South Africa last year, the All Whites gloveman said.
"They wet the pitch down and this means the ball skids through nicely, which is what you want as a keeper," Paston said.
The pre-season friendly against the reigning A-League champion is the biggest football match in Dunedin since under-17 World Cup pool games and a quarterfinal at Carisbrook in 1999, and promoters have touted today's clash with the Roar as the "southernmost game of professional football ever played".
Almost 10,000 tickets had been pre-sold for the game, a Dunedin Venues Management Ltd spokesman said yesterday afternoon.
Invercargill senior football grades have cancelled games today and three buses full of supporters are to travel north from the city to be a part of an anticipated festive atmosphere at the new Dunedin ground.
Dunedin-based Yellow Fever club supporter Ahmad Abdul and his son Ayoub Ahmad (8) were excited about the first football match at the multi-purpose stadium.
Ayoub, a Maori Hill football club player, is one of a group of juniors chosen to accompany the players on to the pitch before kick-off.
Mr Abdul said groups of Yellow Fever supporters were flying in from Wellington for the game, and members of the fan club had extended an open invitation to spectators to join them at a pre-match function at the Otago Cricket long room at the University Oval from 3pm.
The stadium and pitch surface have also drawn rave reviews on the Brisbane Roar website from players who rated the indoor venue as one of the best the players had seen.