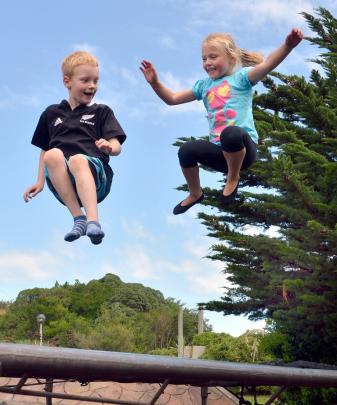 Trampoline accidents in Otago have jumped 51% in the past year - a much bigger leap than the national average.
Accident Compensation Corporation (ACC) figures released under the Official Information Act reveal there were 451 claims for trampoline accidents in Otago last year - 153 more claims than in 2012.
There were 146 claims for trampoline accidents in Southland last year, up from 116 in 2012.
Nationally, trampoline accident claims increased 10% - from 6922 to 7644.
More claimants were aged between 5 and 9, accounting for 35% of claims last year.
Children under 14 accounted for 82% of claims.
But it was not only adolescents getting airborne, with 24 claims paid to people 65 years and older last year, including one for an over-85-year-old.
Safekids Aotearoa director Ann Weaver said trampolines were sports equipment, not toys.
''People buy a trampoline and think the kids can just go for it.''
Children needed rules on trampoline use - and adult supervision.
The safety nets on modern trampolines could give users a ''false sense of security''.
''The nets are not designed to be bounced off and that's what kids tend to do.''
People buying a second-hand trampoline should ensure it met safety standards by checking for punctures or holes in the mat, a deterioration in the mat's stitching, a bent or broken frame, ruptured springs, missing or insecurely-attached frame pads, a sagging mat, sharp protrusions on the frame or suspension system and holes or tears in the safety net.
Safekids Aotearoa had investigated international trampoline research to write a trampoline position paper for publication next month.
''To come up with a way forward for New Zealand.''
The Government's voluntary standard for trampolines was written in 1997 and needed updating to include modern trampoline designs.
University of Otago research fellow Jean Simpson, of the Injury Prevention Research Unit, said only one child should use a trampoline at a time, as many injuries were caused when two or more children shared one.
---
Trampoline safety tips
• Climb on and off the trampoline and never jump on and off.
• Avoid bouncing too high until you can control your bounce.
• Do not use the trampoline as a springboard to other objects.
• Do not attempt somersaults without coaching - somersaults are the cause of the most serious trampoline injuries.
• Allow only one child at a time on the trampoline.
Safety essentials:
• Trampolines must be on a level surface with 2m of clear space around them - away from fences and outdoor furniture.
• There must be at least 7.3m overhead clearance from the ground - well away from wires and tree limbs.
• Make sure there are no obstructions underneath it - and nothing stored under it or kids playing underneath it.
• Employ protection against unsupervised use by removing the means of access.
• Only use trampolines when the mat surface is dry.
Source: Consumer NZ
---