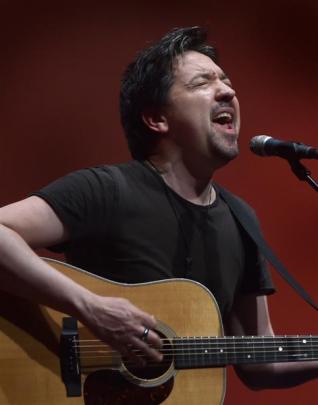 For rock stars, life on the road can be tedious during the day - all the action happens after dark.
That is why Jon Toogood, frontman for one of New Zealand's most successful bands, Shihad, has gone out of his way to find something productive to do during the day, while he waits for his evening performances.
He performed at Dunedin's Glenroy Auditorium last night as part of his New Zealand tour, playing acoustic versions of his own music and a selection of his favourite covers.
But for much of yesterday, he was working with King's High School and Tahuna Normal Intermediate School music pupils on song writing and arranging, in conjunction with the New Zealand Music Commission mentoring in schools programme.
''I just let them know where I'm going to be, and if there is any schools in that area that need or want some mentoring, they tee me up with them.
''It's something that I'm really passionate about. I really like working with kids.
''After 25 years in the business, I've made so many mistakes, it's ridiculous. So, if I can stop them from making some of those mistakes - even if it's tuning a guitar before they go on stage.
''It's giving them a heads up.''
As well as being the lead singer for Shihad for more than 25 years, Toogood is also an award-winning musician, multi-instrumentalist, host of Planet Of Sound on Radio Hauraki, theatre performer and the man behind the collaborative affair The Adults, and has had more New Zealand radio hits than any other artist in New Zealand music history.
King's High School pupil Reuben Flavell (18) described working with Toogood as a rare educational privilege, and he revelled in the opportunity to rub shoulders with one of New Zealand's most successful songwriters.
''It's great having someone as big as that come in and listen to our own songs, critique them and make them better.
''He gave great guidance.''