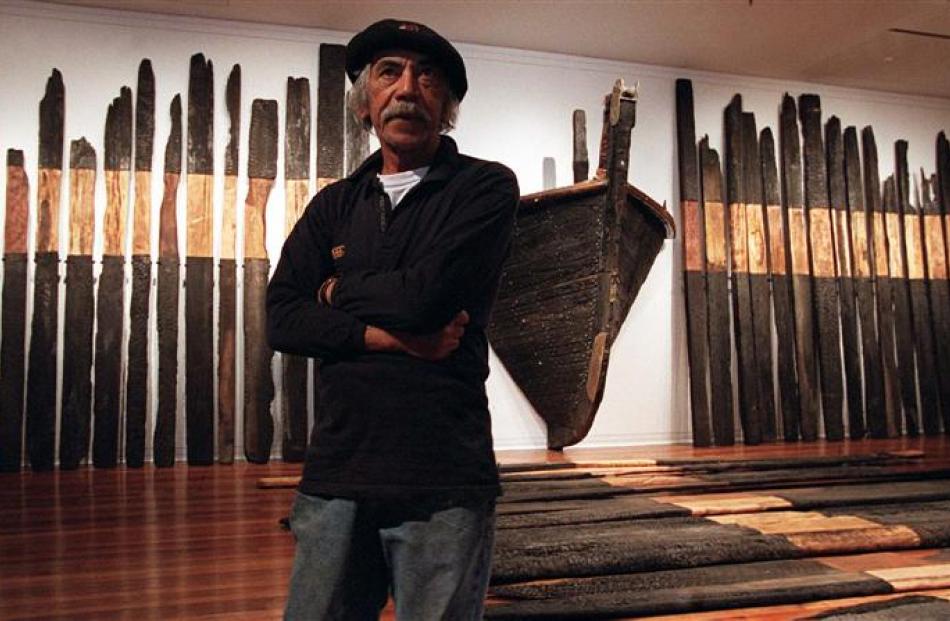 Family friends and the arts community are saluting the achievements of Ralph Hotere ONZ after he died in Dunedin yesterday.
Hotere, widely considered one of New Zealand's most acclaimed and provocative artists, died peacefully at midday, surrounded by family.
A statement released by Hotere family representative Judith Ablett-Kerr yesterday afternoon read: ''It is with deep regret and profound sadness that I advise of the death of Ralph Hotere ONZ. Funeral arrangements will be advised at a later time.''
''He was a genius and a very sweet person,'' Hotere's former wife, of 14 years, Bluff poet Cilla McQueen, told the Otago Daily Times. The 81-year-old, who suffered a serious stroke in 2001, had been unwell recently.
In a career spanning more than five decades, he became well known for tackling key events in New Zealand's history with his dark and poetic paintings and he remains one of the country's most significant and valuable artists.
In 2010, his Black Window sold for $275,000 - the highest price then realised for a work by a living New Zealand artist. Vive Aramoana fetched $183,000 at auction in 2011.
''He was our greatest living contemporary artist. I don't think there's much doubt about that,'' Dunedin arts curator Peter Entwisle said.
''Frances Hodgkins was the first New Zealand artist to really break through international boundaries and Colin McCahon came a generation later. Ralph was the next in line.''
''Ralph Hotere. A truly great artist. One of our greatest and, like Colin McCahon, a bridge across two powerful rivers. Haere ra,'' Auckland art historian Hamish Keith said.
''And it should be said of Ralph Hotere that he was a great warrior artist and he fought with his art for great causes.
''When a great person dies we are left with the changes they made to our world - time to reflect on that.''
Art blogger Cheryl Bernstein described Hotere as: ''A great artist, a friend to poets, a painter of requiems''. Hotere always preferred to let his art speak for itself.
''There are few things I can say about my work that are better than saying nothing,'' he once said.
Prime Minister John Key also paid tribute to Hotere yesterday.
''I extend my sympathies and condolences to the family and friends of Mr Hotere, who was one of only a handful of New Zealanders to be granted the country's highest honour, the Order of New Zealand,'' Mr Key said.
Hotere was born Hone Papita Raukura Hotere in 1931, one of 15 siblings, at Mitimiti, just north of Hokianga Harbour.
He attended St Peter's Maori College (Hato Petera College) and Auckland Teachers College, before moving to Dunedin in 1952, to study art at the former King Edward Technical College.
At that time, he qualified as a Tiger Moth pilot at the Taieri Aerodrome Training School in Mosgiel.
He later worked as a schools art adviser for the Education Department in the Bay of Islands, before winning a New Zealand Art Societies Fellowship in 1961, to study at the Central School of Art in London. His time in England coincided with the pop art movement and greatly influenced his later work.
He returned to New Zealand in 1965 to focus on his art and settled in Port Chalmers.
He held his first solo exhibition, the self-titled ''Ralph Hotere'', at the Dunedin Public Library the same year.
Two breakthrough solo exhibitions followed in ''Sangro Paintings and Human Rights'' (1965) and ''Black Paintings'' (1968), before he was awarded the University of Otago Frances Hodgkins Fellowship in 1969.
Many of Hotere's works referenced the dark side of life, and his political beliefs.
His Sangro series was a memorial to his brother, Private Jack Hotere, who was killed in action by the Sangro River in Italy on December 21, 1943.
The Polaris series was a response to the nuclear Polaris missile in 1984, while his Aramoana series attacked plans to build an aluminium smelter at Aramoana. Black Union Jack protested the 1981 Springbok tour and Black Rainbow condemned France over the 1985 Rainbow Warrior bombing.
Another of the artist's legacies, the Hotere Garden Oputae, was built on Observation Point at Port Chalmers in 2005 after Hotere's studio was controversially removed for Port Otago development. The garden includes his 1991 Black Phoenix II sculpture.
Hotere also collaborated on works with other artists and poets, such as Hone Tuwhare and Bill Manhire.
In 1984, he represented New Zealand at Fifth Biennale of Sydney, with Colin McCahon, and he was
awarded an honorary doctorate from the University of Otago in 1994.
In 2003, he was one of the 10 inaugural recipients of an Icon Award bestowed by the Arts Foundation of New Zealand.
In 2006, he was awarded the Te Taumata Award by Te Waka Toi, recognising outstanding leadership and service to Maori arts. He received New Zealand's highest honour - membership of the Order of New Zealand, which is limited to 20 living members - in the 2012 New Year Honours.
Governor-general Lieutenant-general Sir Jerry Mateparae said the award was a reflection of the artist's ''service, merit, endeavour, perseverance, commitment, excellence and, above all, mana''.
Hotere's citation said that as a painter, sculptor and collaborative artist, he had reacted to social and environmental issues through his work.
Sir Jerry yesterday paid tribute to Hotere as ''a quiet man of great strength and character whose contributions ... provide thought-provoking commentary on the many facets of New Zealand''.
Hotere celebrated his 80th birthday in 2011 with exhibitions throughout the country and completed an artwork for his Christchurch printer, Marion Maguire, as a sign of support for the quake-hit city.
Hotere's work is represented in art museums throughout the world. He is survived by his wife, artist Mary McFarlane, and legally adopted daughter, Andrea Hotere Naish.
• An obituary will follow.