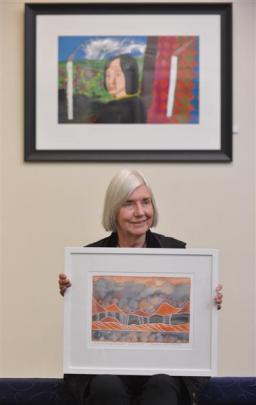 Organisers of a Dunedin charity art auction to raise funds for the Heart Foundation have been buoyed by a ''fantastic'' response from artists and artwork owners, who have donated about 60 works.
Works by Auckland artist Billy Apple, the late Ralph Hotere and Jeffrey Harris are among those donated for the auction, which will be held at the Otago Art Society Rooms at the Dunedin Railway Station on Friday evening.
Dunedin artist Marilynn Webb said she was happy to provide a print depicting a scene in Dusky Sound.
She was always happy to support health-related charitable causes, particularly those involving children's health.
Heart Foundation Otago branch office administrator Janette White, who came up with the auction idea, and branch heart health advocate Jo Arthur have jointly organised the event.
''It's amazing. So many wonderful pieces of art have been put in for auction,'' Ms Arthur said.
It had initially been hoped to raise about $10,000, but it was possible, given the high quality of the artworks made available, that that figure could be exceeded, organisers said.
Funding would be used to support the Heart Foundation and its work, including related medical research.
The auction, conducted by Dougal Stevenson, will start at 7.30pm.