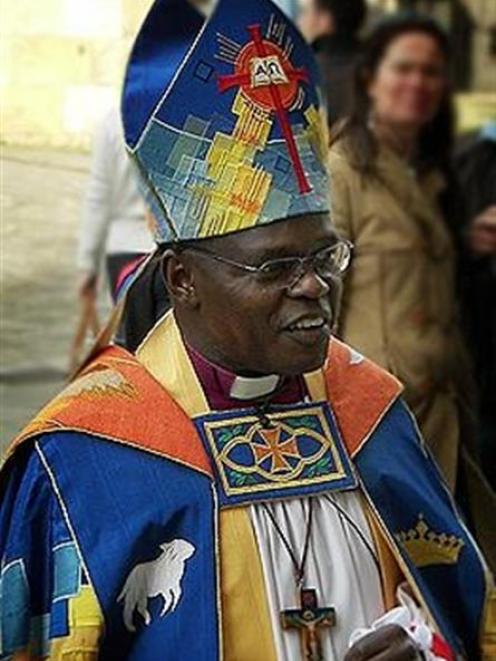 The second-highest-ranked bishop in the Church of England will visit Dunedin and join a pilgrimage through Otago to mark 200 years of gospel in New Zealand.
The Archbishop of York, the Most Rev Dr John Sentamu, who will be accompanied by his wife, Margaret Sentamu, will be based at the University of Otago as the Harold Turner Visiting Fellow at the Centre for Theology and Public Issues during his March 9-29 stay.
He and his wife will present the keynote addresses at the ''Poverty - Global and Local'' symposium in Dunedin on March 17. The visit occurs as the Anglican Church prepares to celebrate the bicentennial of the beginnings of the Christian gospel in New Zealand.
On March 22, Archbishop Sentamu (64) will join the Bishop of Dunedin, the Rt Rev Dr Kelvin Wright, on his pilgrimage in the Queenstown and Wanaka areas.
The archbishop will also visit New Plymouth, Christchurch, Wellington and Auckland and will attend the liturgical welcome for the Bishop of Waikato, the Rt Rev Dr Helen-Ann Hartley - the first woman in the Church of England to be ordained a bishop.
Archbishop Sentamu, a former a Ugandan high court judge who was jailed during President Idi Amin's reign, before escaping and fleeing to England, said during his last visit to New Zealand he was deeply moved by the traditional Maori welcome, the hongi.
''I am greatly looking forward to returning to New Zealand for this opportunity to study, worship and witness together.''
Archbishop of the New Zealand Dioceses the Most Rev Philip Richardson said the work and leadership of Archbishop Sentamu brought passion to issues facing societies across the globe, including inequality, indigenous rights and the need to provide for the younger generations.
''We look forward to the engagement Archbishop Sentamu and Margaret will bring to issues that face us as society and as a church in Aotearoa, New Zealand,'' he said.