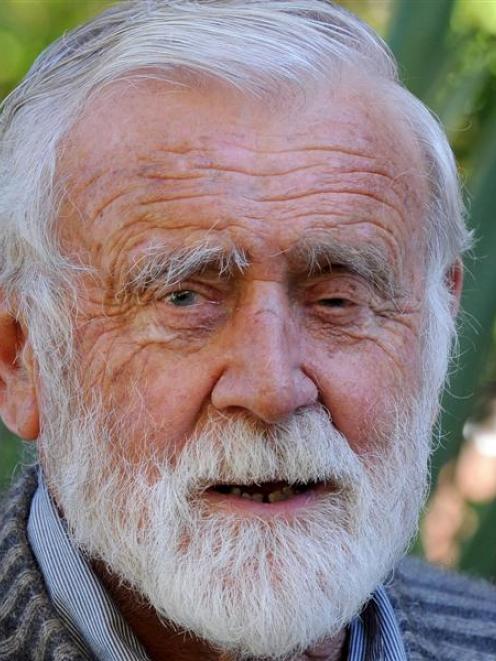 The University of Otago will confer an honorary doctor of science degree on Sir Alan Mark, one of New Zealand's leading plant ecologists and conservationists, this weekend.
Sir Alan (81), an emeritus professor in the university's botany department, was yesterday ''delighted'' to gain the ''very unexpected'' honorary degree.
It was also ''very reassuring'' to have been honoured in this way, given that, over the years, several environmental topics linked to his research had been ''somewhat controversial''.
The degree was an acknowledgement from the university and scientific peers that sound scientific research had underpinned his efforts to ensure the water levels of Lake Manapouri and Lake Te Anau were managed sustainably, and that the country's highland tussock grasslands were too.
He was chairman of the Guardians of Lakes Manapouri and Te Anau for that organisation's first 26 years.
Not every environmental cause he had backed had been successful, and the outcome over proposed development at the Denniston Plateau had been a ''great disappointment'', he said.
The degree will be conferred at the second of two graduation ceremonies, beginning at 4pm, at the Dunedin Town Hall on Saturday.
Sir Alan will also give the graduation address.
Otago vice-chancellor Prof Harlene Hayne said Sir Alan was ''an inspirational figure'' both in and beyond Otago.
He was ''an effective critic and conscience of society'' whose standing was ''grounded in leading research'', she said.
Born in Dunedin, Sir Alan was appointed professor of botany in 1975, having first joined the Otago department in 1955.
Elected a Fellow of the Royal Society of New Zealand in 1978, he also received the society's Hutton Medal in 1997, and the Charles Fleming Award for Environmental Achievement (2010).
In 2009, he was made a Knight of the New Zealand Order of Merit for his science-based conservation work.