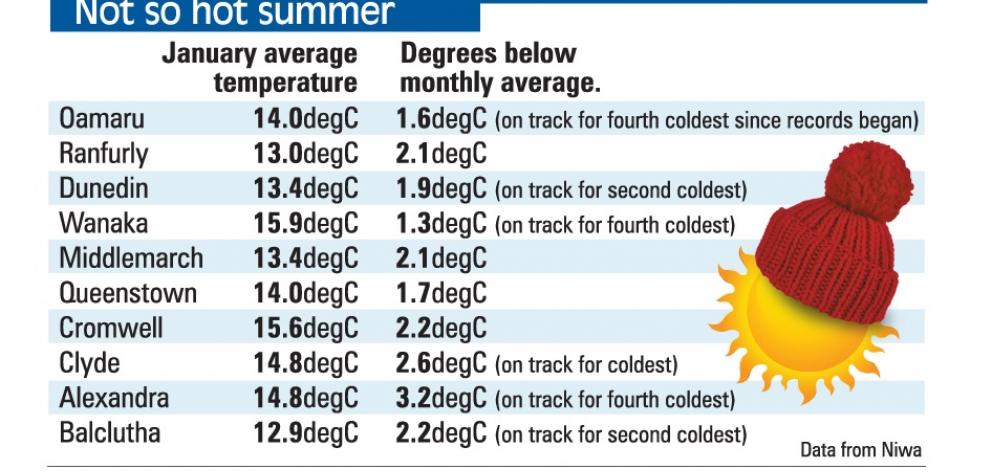 Dunedin is on track for the second-coldest January on record, but Niwa says it is too early to write off summer just yet.
Other towns across Otago are also shivering in the cold, with Clyde set for the coldest January and Balclutha set for the second-coldest.
While a cold and wet start to 2017 might be making life difficult for parents of children on school holidays, the weather has been a blessing for Otago farmers and the first northern royal albatross hatchlings at Taiaroa Head.
On the other end of the scale, beekeepers in Otago, especially in coastal areas, are having one of the worst honey production seasons.
Niwa climate scientist Nava Fedaeff said it was too early to write off summer just yet.
Otago had definitely experienced a cold start to the year but December had near average temperatures across Otago.
And with February temperatures looking ``a lot more favourable'' in Otago, it was ``a little bit premature'' to count this summer as a bad one just yet.
The main reason temperatures had been so low across the bottom of the South Island in January was because there had been a lot more southwesterly fronts than usual.
The contrast between warm ocean temperatures in the Tasman Sea off Australia and the cooler ocean temperatures around New Zealand had also worked to channel storms and wet weather towards parts of the country.
Areas of Otago had been wetter than usual in January, but not at record levels.
The MetService said 139mm of rain had fallen in Dunedin so far this month, close to double the normal average of 86mm for the month.
The record rainfall figure for January was 254mm in 2002.