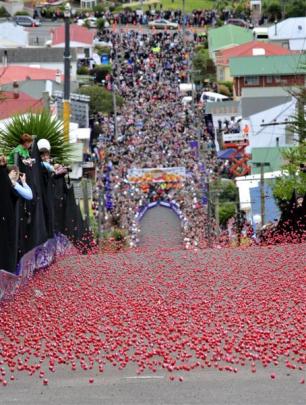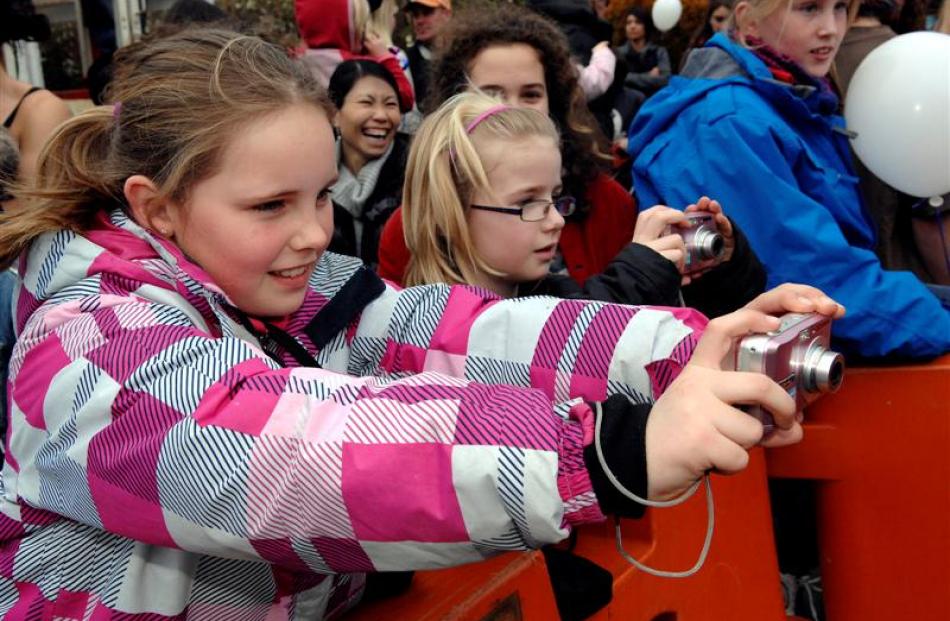 They travelled 150m down one of the most visited streets in New Zealand, but Cadbury's Giant Jaffas are "yummy" and it was difficult to stop children from collecting them out of the gutters and eating them following the Cadbury Jaffa Race on Baldwin St yesterday.
The sight of 50,000 Jaffas bouncing down the world's steepest street is enough to excite any chocolate-loving kid into a sugar-induced frenzy.
Hundreds turned out with their parents to watch the annual highlight of the Cadbury Chocolate Carnival, and see if their Jaffa was one of the first 10 down the hill to win a share of $8000 worth of prizes.
In the first race, consisting 25,000 red Giant Jaffas, it took 31 seconds for the first five Jaffas to reach the bottom.
And in the second race, consisting 25,000 purple Giant Jaffas, it took 30 seconds.
The prizes were a $1000 petrol voucher and a $1000 grocery voucher for first place, a $1000 grocery voucher for second place and a $1000 petrol voucher for third place. Fourth and fifth places won mobile phones.
Cadbury's event co-ordinator Lee-Anne Anderson was delighted the race rolled out smoothly, and was pleased to announce nearly $50,000 was raised by ticket sales this year.
Half of the proceeds would go to Cure Kids and the other half to the Taieri Parents Centre, she said.
Since the race started in 2002, more than $410,000 has been raised for local charities including Canteen, Dunedin Kindergarten Association, the Malcam Charitable Trust and the Otago Community Hospice.
During the street party, Cadbury managing director Alastair de Raadt celebrated the launch of Joy - the song of a nation.
Cadbury's has spent the past nine months capturing the sounds of joy from events and people around New Zealand, and turned them into a song featuring singer Bobby McFerrin, which was played for the first time at the street party yesterday.
Mr De Raadt said Cadbury created the song because joy was an important part of life.
"It's amazing how sound and music can influence our joy and well being.
"By creating a song using actual sounds of New Zealanders' joy, we're hoping to spread a little more.
"This song is our gift to Kiwis."
---
Jaffa Race results
-                          Red                     Purple
First:                    1596                   21529
Second:                338                    18504
Third:                   9649                   20604
Fourth:                 9717                  1714
Fifth:                    21987                 2480
---