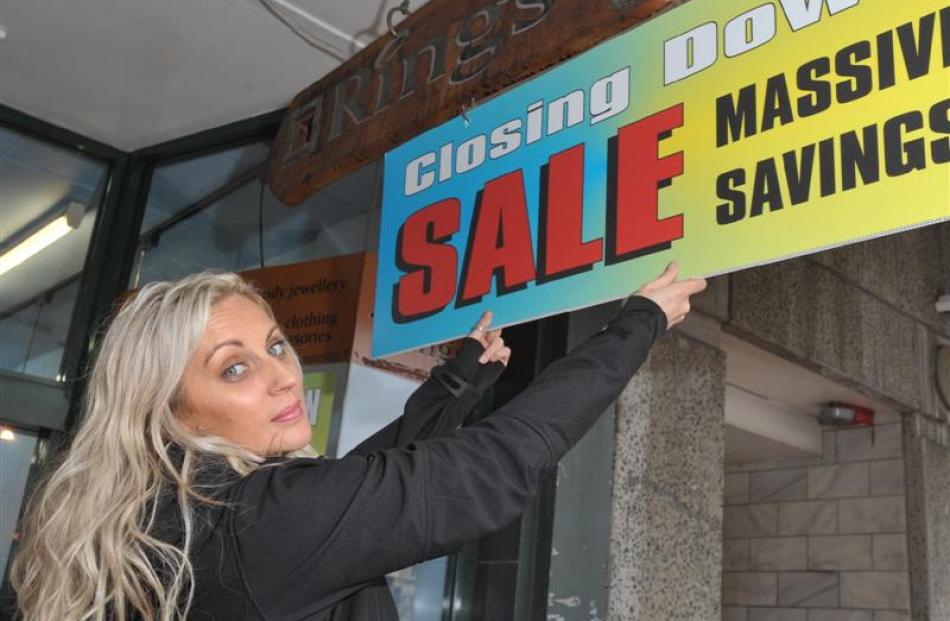 A lack of foot traffic and impulse purchases caused the slow retail death of Dunedin jewellery shop.
Rings N' Things owner Grant Henderson, of Dunedin, said his jewellery shop in George St was closing after ''battling'' with declining sales for the past two years.
The shop opened in Dunedin 13 years ago and at its peak had four staff working the sales floor.
''Now you could put out an honesty box.''
Mr Henderson said he should have closed the shop earlier, when it was losing $10,000 a month, but had hoped for a retail ''miracle''.
''Last year, I thought: It can't get worse than this.''
He considered battling through winter to spring and the cruise ship passenger arrivals but the business leaking money forced the decision to close and making full-time manager Stacey Fraser redundant.
The shop's two part-time staff would be relocated to another business he owned - Moonshine Jewellery in Meridian mall, a kiosk next to Kmart.
Rings N' Things had been more lucrative than the kiosk for many years but the fortunes had changed.
The shop location was failing to attract customers, he said.
''This block has died. There are days in winter you could shoot a cruise missile down the street and you wouldn't hit anybody.''
He relied on walk-in customers making impulse purchases, so a lack of foot traffic hurt the business.
Only ''destination shops'' could survive outside the hottest retail area in Dunedin, closer to, or inside, the malls, he said.
In winter, people shopped in the warmer mall shopping rather walking between the shops in the cold.
Although the kiosk rent was more than the shop, the kiosk had more sales because the goods caught the eyes of passers-by.
Browsing a kiosk was less intimidating for customers than entering a shop, he said.
Since the ''closing down sale'' sign went up outside the shop, turnover doubled.
Customers were being attracted by the prospect of a bargain and often bought non-sale goods, revealing a market for the goods in Dunedin in a location with more people passing.
In two months, he expected the sale to end and the shop to close and he would ''regroup'' by focusing on his kiosk and paying off debt.