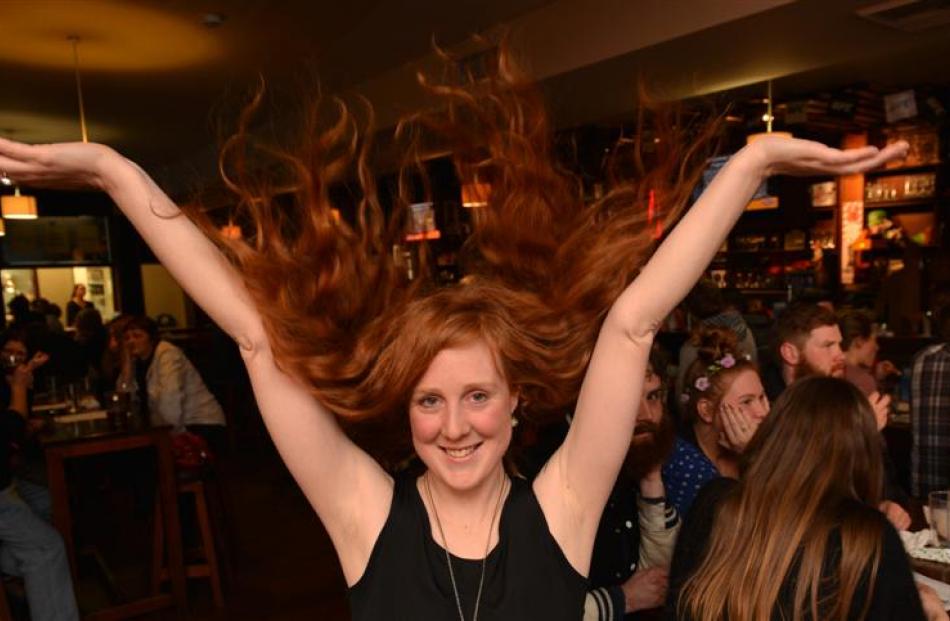 Ashley Mackenzie-White has already touched a few Irish hearts with her dream of being crowned ''Queen of the Redheads'' at the Irish Redhead Convention in County Cork next month.
Ms Mackenzie-White (28) works in Wellington these days, but yesterday was back in Dunedin, the city where she grew up.
And she helped co-ordinate a quiz night at the Kensington Tavern which raised $610 towards the extra $1000 she still needs to make the trip to that redhead convention.
More than 50 friends, family and supporters attended and she was delighted with the ''fantastic'' response.
The convention is billed as a celebration of red hair, and includes carrot-tossing championships, and a most freckles per square inch contest.
After her aim to reach the Irish event was revealed last week in an ODT story, also published online, convention organisers contacted her by email, saying they were excited she was coming, and offering their help if needed.
The convention's Facebook page also offers a link to the ODT story and Irish organisers said Ms Mackenzie-White was ''definitely a contender for the Furthest Travelled Redhead Award''.
She said this unexpected support was ''great'' and she was also delighted with support from a wide range of firms, including Dunedin's The Scottish Shop, which provided a necklace for a fundraising raffle prize.
Ms Mackenzie-White, who attended Otago Girls' High School, said people had bullied her in the street as a youngster because of her red hair.
But public attitudes were changing and such pettiness now seemed ''very weird''.
She also chairs the New Zealand Rose of Tralee organising committee and will accompany the latest New Zealand winner, Otago University graduate Lisa Bazalo, to Tralee, Ireland, for the latest annual Rose of Tralee International Festival next month.
And then she will attend the Cork event, which beginson August 22.
Ms Mackenzie-White is looking forward to a fun event, and will not be shedding any tears if she does not win.
And she remains keen to highlight the many good things about having red hair.
''We're unique and special, and it's a positive thing.''