Close to 100mm of rain could fall in coastal Otago, including Dunedin, over 48 hours, the MetService is warning.
The MetService has issued a string of weather watches and warnings for tomorrow covering much of Otago and Southland as a complex low pressure system is forecast to bring large amounts of rain to much of the South Island.
"A rainband associated with the low extends over Otago today and a low is expected to develop east of Otago tomorrow.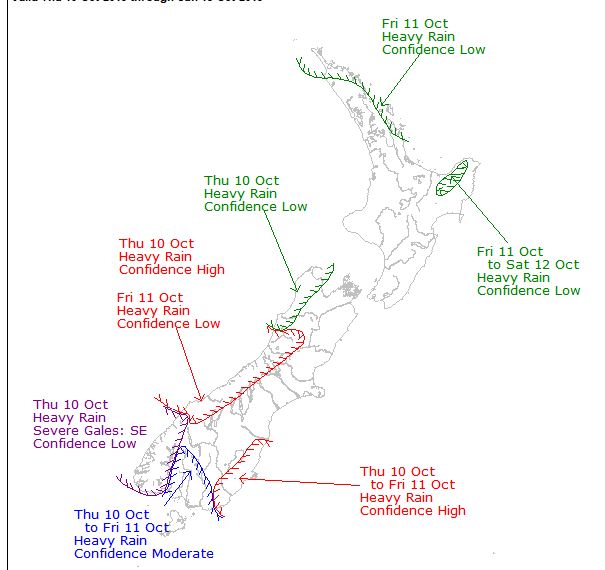 "This will bring some rain to much of Otago and Southland, and tomorrow the rain may become heavy about coastal Otago and eastern Southland."
"The area where heaviest rain is expected has spread further south, and northern Fiordland and the Otago Headwaters are now included in the Warning, joining Westland and the Canterbury Headwaters."
Rain was expected to by heavy at times in Coastal areas of Otago and Southland from Moeraki Point to Slope Point from 4pm tomorrow afternoon to 8am Friday.
Accumulations could approach warning criteria of 40mm falling in 12 hours during this time. 
Because light to moderate rain was likely from this afternoon, rainfall  accumulation over 48 hours may come close to 100mm.
In Otago headwaters for the 24 hours from 10am today when between 120mm and 150mm of rain is possible near the Main Divide and more than 100mm possible within 10km east of the Divide.
In Fiordland north of Milford Sound where  100m to 130mm is possible for the 21 hours from noon today. Intensities of 15 to 20mm per hour are possible.
Warnings are also in place for the Canterbury High Country from Arthurs Pass southwards and  Westland about and south of Otira.
A watch is in place for Fiordland between Milford Sound and Doubtful Sound