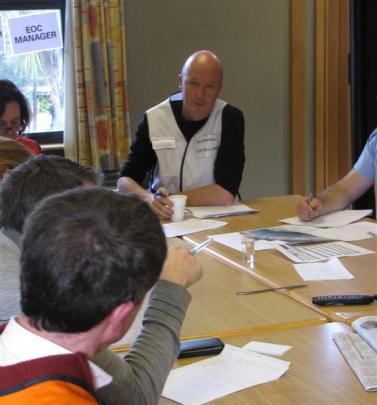 A simulated magnitude-8 earthquake struck the West Coast on the Alpine fault line at 3am yesterday, demolishing the Omarama Hotel and Ohau Lodge and isolating Queenstown.
It was followed by a simulated magnitude-6 aftershock on the Akatore fault line south of Dunedin at 11.30am.
That caused havoc in Dunedin and caused a landslip which buried 22 people staying at Berwick Lodge.
In the major earthquake exercise, designed by the University of Canterbury with specific challenges for each local authority area, buildings were destroyed, roads ripped up and communications knocked out across the South Island.
The exercise gave more than 200 local authority, emergency and social service staff across the island 12 hours to test and practise their preparedness for managing a large-scale emergency.
In Otago, operations centres in Queenstown, Dunedin, Oamaru, Balclutha and Alexandra swung into full response mode, while a co-ordinating emergency management group set up a centre at the Otago Regional Council's new super-strengthened council chamber in Dunedin to co-ordinate the response across the region.
Co-ordination group controller Jeff Donaldson said the Dunedin centre was similar to the one which operated out of the Christchurch Art Gallery following the February 2011 quake in Christchurch.
An exercise on this scale to respond to a major emergency was held every 12 to 18 months, and this one had been particularly realistic, he said.
While most centres around Otago ran desk-top responses only, at least one local community worked with authorities to physically practise evacuations and welfare registration.
In the small North Otago village of Waitaki Bridge, near Oamaru, residents took part in a full-scale evacuation as 10 volunteers from Waitaki Bridge Civil Defence assessed possible property damage and casualties.
Waitaki Bridge Civil Defence co-ordinator Gordon Greaney said it took volunteers 50 minutes to visit each of the village's 38 properties, and although it took about 20 minutes longer than expected, the exercise had gone ''very well''.
Exercises like yesterday's could prove ''invaluable''in the event of a real emergency, he said.
The group of volunteers had been in operation for 18 months and had prepared residents for emergency situations.
Information on which residents might need medical assistance in the event of a disaster had been compiled previously, and would be kept updated.
Residents took the exercise seriously.
''We have already done a similar one at Kaik Camp (at the Waitaki River mouth) and residents then were 99% behind it.''
Although most residents were not home at the time of yesterday's exercise, those who were
reported to the Waitaki Bridge Hall, where they filled out official Red Cross medical forms.
Resident Miles Buckland said it was important to be prepared for a disaster.
''There has to be some sort of civil defence organisation and the only way to get good at it is to do it.''
Fifty emergency managers were involved in the Clutha district's largely desk-top exercise, but the Otago Neighbourhood Support group also tested ''community ringing trees'' in some townships.
Queenstown exercise controller and Queenstown Lakes District Council emergency management officer Jon Mitchell said 60 people, including the council, St John, police and Red Cross staff, were involved in the exercise in Queenstown and Wanaka.
For the purposes of the exercise, the earthquake cut off Queenstown, caused slips and rockfalls in Frankton Rd, Gorge Rd and Glenorchy Rd, damaged the Edith Cavell Bridge and Kingston Rd and left towns including Glenorchy, Arrowtown and Gibbston isolated.
In Wanaka, significant ''damage'' resulted in the Makarora area, including rockfalls in the Young Valley.
There was also damage to infrastructure, homes and businesses, resulting in widespread evacuations, injuries and deaths in both areas.
Mr Mitchell said the situation was ''similar to Christchurch''.
''We've been running emergency operation centre training here for the last six weeks - we've got a lot more people trained to respond and co-ordinate than previously.
''One of the big lessons from Canterbury is that communities are very, very resilient [and able to] self-organise ... how do we support that?''