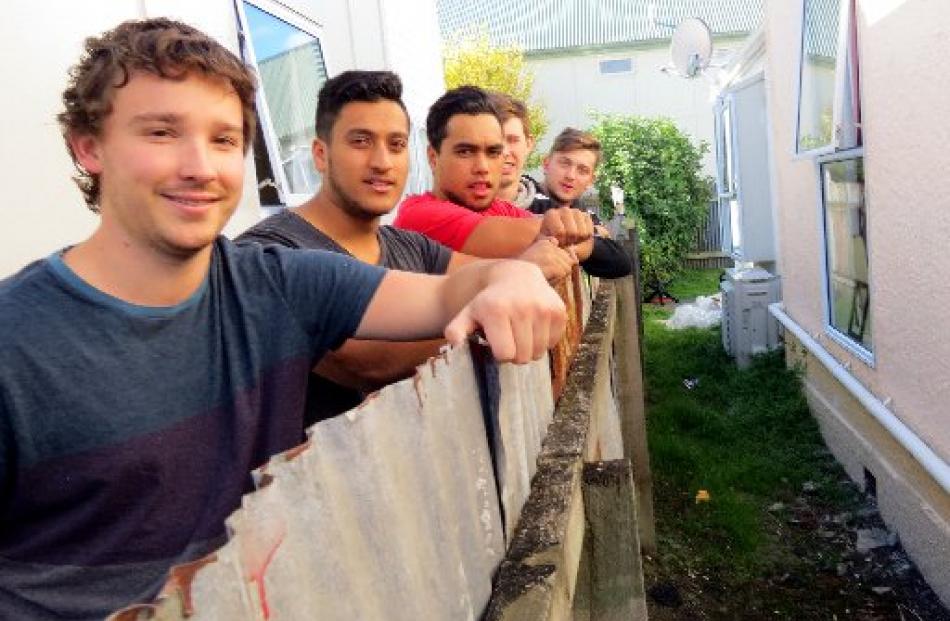 Competition in the student rental market is heating up with more than 100 properties still available in traditional student areas.
University of Otago figures released on Tuesday show student numbers are down by 469 on the same time last year, while popular rental websites show about 150 properties for rent in the city centre, North Dunedin and Northeast Valley.
Otago Property Investors Association president Wendy Bowman said students were able to be a bit more fussy about the quality of their accommodation although rooms in the most popular student areas were still hard to come by.
That is backed up by a group of five University of Otago students The Star spoke to on Tuesday, who say the six people in their Leith St flat pay $139 each, or $835 in total.
One of that group - Jethro Palmer - said you had to be in early to get the prime spots and his flatmate Ben Hanara said it was a case of ''looking and asking'' to find the best houses.
Flatmate Matt Newman said ''the girls over there [next door]'' were paying $150 each a week for their rooms.
New Zealand Union of Students' Associations president Rory McCourt used Dunedin rents to highlight the inadequacy of the Government's 90c rise in student allowances that came in this week - something he described as ''an April fool's joke''.
''If you're a student in Dunedin, rent now gobbles up 70% of your income. Only a few years ago, that was a third, with some left over at the end of the week. Such sharp rent rises mean less money for basics like food and power,'' Mr McCourt said.
Outside the most popular areas, students had much greater choice and landlords were finding they had to improve the quality of their accommodation to compete, Ms Bowman said.
''The students have got choice, which is good, I guess. It is all about supply and demand at the end of the day.''
Student Letisha Nicholas has set up a business called Livable to foster collaboration between landlords and tenants and to improve the quality of rental housing.
She said there was a ''unique situation'' in Dunedin at present where there was excess housing, especially in the student area.
As a result, tenants were able to be ''choosy'' when looking for a rental and pick homes that were easier to heat, Ms Nicholas said.
She said the social, economic and environmental impacts of poor-quality rental housing were well documented and ''we may be starting to see a shift in this''.