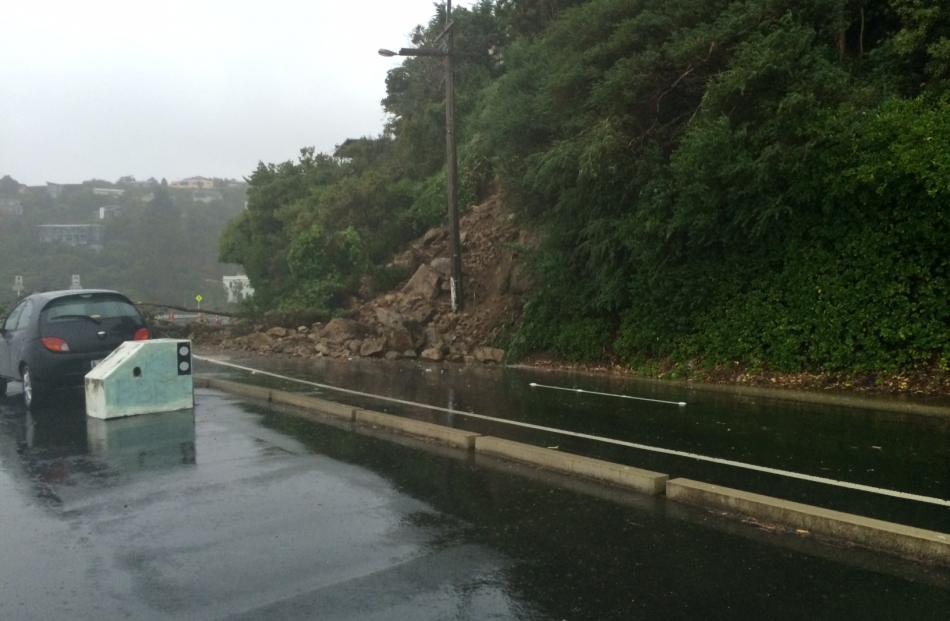 Power has been cut to 150 East Taieri homes as a safety measure after heavy rain caused widespread flooding in coastal Otago, and Aurora Energy is warning more homes could be affected.
"We anticipate that further urgent disconnections of power supply in Dunedin may be required in the interests of public safety. Dunedin electricity consumers should be prepared in the event of power outages,'' an Aurora Energy spokesman said tonight.
Due to surface flooding and "in the interests of public safety'', Aurora has already disconnected electricity supply to Woodland Ave, Kinmont Cres and Gebbie St in East Taieri.
The power would remain out until water subsided and power could be safely restored. Surface flooding was submerging ground-mounted electrical equipment.
"We apologise for the inconvenience to affected electricity consumers as we take these necessary steps to ensure the safety of the public.''
A civil defence response has been activated after heavy rain battered the city today, causing widespread flooding including sewage on the streets. 
More rain is forecast overnight, and the Dunecin City Council is warning the flooding could get worse before it gets better. 
Dunedin City Council civil defence manager Neil Brown said in the 24 hours to 3pm, about 90mm to 95mm of rain had fallen in the Dunedin area.
"To put that into perspective, overnight we may get another between 80mm and 100mm, according to the forecast. So really we are about halfway in terms of the volume we have experienced over the city.''
A Dunedin City Council spokesman said emergency services were now working together out of the civil defence bunker in central Dunedin to co-ordinate their response to multiple flooding events across the city.
South Dunedin, Kaikorai Valley and parts of Mosgiel, the Brighton Coast and the Taieri Plain had been hardest hit by heavy rain and flooding, with businesses sandbagged and children sent home from school. North Rd is also flooded.
Elderly residents at Radius Fulton in Dunedin were being evacuated this afternoon following substantial flooding to the rest home on Hillside Rd and the Caversham region. 
Managing diretor Brien Cree said the main focus was the safety and wellbeing of residents and staff. Local DHB, civil defence, emergency services and family members are helping to move residents to safer premises.
Roads closed
As of 6.45pm, 12 roads around the wider Dunedin area are closed. Check the latest road closures here
Traffic lights are out at the interesection of Cumberland and St Andrew Sts due to weather, and motorists are advised to proceed with caution.  
The NZTA has urged people who do not have to travel today to stay put, with flooding continuing to worsen on many local roads and highways in and around Dunedin.
It also asked people to avoid travelling on the Southern Motorway between Mosgiel and the central city.
Flood water on Dunedin Motorway is up to the car's bonnet. It's gonna be a long night. No I am no in the car.#Dunedin pic.twitter.com/OfxdaI8oFr

— WroughtIronRose (@WroughtIronRose) June 3, 2015
The DCC says the public should avoid walking through floodwaters, which may have been contaminated, but the water supply is safe to drink.
Mr Brown said while Civil Defence has been activated to monitor and co-ordinate, at this stage there was no suggestion a state of emergency would need to be declared.
"That may change, but at this time it's not the case.''
The army had offered its resources and one of their Unimog trucks was used to evacuate children from Abbotsford School.
Army resources, such as trucks that could move through deep water, had the potential to be helpful and a deployment could be sent down from Burnham Military Camp, just south of Christchurch, if needed.
He advised people to stay aware of the environment around them and to plan accordingly.
No evacuation centres had been set-up and people forced to evacuate and people were advised to stay with friends and family.
"If for some reason they have to leave and can't make arrangements then they can call for assistance through one of the emergency services.''
Inspector Mel Aitken, of Dunedin, said police were concerned about people driving to the worst-affected areas to rubberneck.
"Our advice is if you don't have to go out, don't venture out. It's hard enough on the services to try and deal with what we are dealing with let alone having people go out there to take a look at what is happening.''
Police advised people to check up on vulnerable friends and family.
DCC Roading Maintenance Engineer Peter Standring said the city's stormwater system was at capacity and the roading network under pressure.
Foul sewer contamination had forced the closure of the Hargest Crescent area. This could become an issue for other areas.
Mr Standring said the high tide, expected to peak at 4.30pm, had the potential to cause more flooding of stormwater drains in low-lying areas.
The last major rain event was in May 2013, but this was a more significant.
DCC Water and Waste Network Contracts Manager Mike Ind said stormwater and foul sewers in the Hillside Road/Surrey Street areas were at capacity at 10.30am today.
The Fire Service was pumping water from the Fulton Home property on Hillside Rd. DCC staff and Civil Defence have helped with the provision of additional flood barriers.
Mr Standring said the severe weather warning for Dunedin remains. One of the major concerns was high tide, due in the late afternoon, which may have an impact on the water draining away.
The Silverstream at Gordon Rd is rising rapidly. At 1.45pm, it was flowing at 58 cumecs. Its flood level is 65cumecs.
The Kaikorai Stream is running at full capacity and Kaikorai Valley Rd, south of the Stone St roundabout, is flooded. 
The council's key messages for the public are:
Where possible, avoid driving or walking through floodwaters, particularly those that may be contaminated with wastewater
If you do have to drive, please drive carefully and be prepared for widespread surface flooding
There are going to be a lot of motorists on the road trying to get home, so we ask drivers to be patient and allow plenty of time for travel
Check on your neighbours, especially if they are elderly or have young children
The water supply is safe to drink
Flooding from Blackjack Creek, about 2km south of Roxburgh, has closed State Highway 8 between Roxburgh and Millers Flat. A detour is available on Roxburgh East Rd and Teviot Rd.
Rivers rising
MetService expects that rainfall will ease overnight, and flows in the smaller catchments such as the Leith, Lindsay, and Silver Stream will then start to stabilise or reduce.
The flow in the Water of Leith is presently around 100 cumecs - which compares with the peak of 95 cumecs in 2006.
The planned upgrades to the Leith Flood Protection Scheme, once completed, will contain a flood of 171 cumecs.
There is some surface flooding from the channel of Lindsay Creek onto North Road just upstream of the Hospice.
Some water is still expected to go over the Gordon Road spillway on the Taieri, but not for long. 
The Otago Regional Council has updated landholders in critical parts of that area on developments. The Silver Stream is not expected to flood into Mosgiel township.
It is unlikely that flows in the Taieri River will reach the threshold (1100 cumecs at Outram) at which the Riverside spillway gates are dropped, but the river will remain high for some time.
Landholders in the Pomahaka catchment have also been told that flows in the Pomahaka are high and will continue to rise overnight.
Landholders near the Kakanui River have been contacted and advised of similar circumstances there.
Southern DHB operations
The Southern District Health Board has set up an emergency operations centre in response the flooding.
The centre is working to ensure that staff are able to come into work and return home and the four-wheel-drive club will be available. Staff who have any issues getting to work or who have difficulties getting home should contact 4709910 ext 9910.
Southern DHB is assisting a number of age residential care facilities in the city who are at risk of flooding and are trying to identify placement beds if required.
There is some flooding in the Lower Ground loading dock of Dunedin Hospital today, due to a city main being blocked. Council workers are assessing the site.
There are leaks in various buildings of the Dunedin Hospital campus which are being repaired as soon as possible. This number of leaks are consistent with this amount of rain, and all critical areas are functioning well.
Clutha District 
The Clutha District Council has warned of widespread surface flooding affecting "numerous" roads.
Council staff and contractors are currently out working to identify road closures.
So far they include:
Lakeside Road at the railway underbridge 
Akatore Road at Big Creek
Papatowai Highway at Caberfeidh Hill
Karoro Creek
Mt Wallace Road
Back Road
Springfield Road
Allison Road
Remote Road
Motorists are advised to drive with caution, to the conditions and to consider making plans to travel home before dark tonight.
Please remember to also check road conditions tomorrow morning before travelling as the overnight rain may have increased the flooding.
Late start for schools
All primary and intermediate schools, and Dunedin Kindergarten Association kindergartens from Mosgiel to Port Chalmers to Waikouaiti,  will start at 10am tomorrow. Listen for further updates early in the morning.