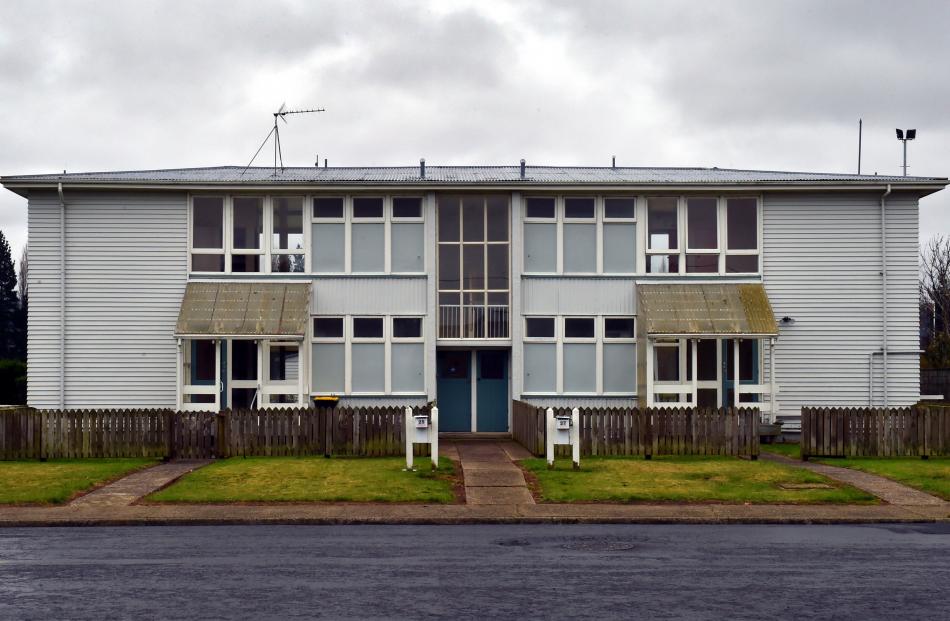 Housing New Zealand is selling 30 state houses in Mosgiel because of "low ongoing demand'' for them.
The vacant houses are in Murray St, where the corporation owns 53 state houses. They will be sold on the open market.
HNZ confirmed the sell-off just days after Presbyterian Support Otago (PSO) said Dunedin had a growing homelessness problem.
Proceeds from the sales will be used in areas of greatest need for state housing, and will not necessarily be reinvested in the Dunedin area.
There are 64 vacant state houses in the greater Dunedin area, and of those, 16 are about to be tenanted.
As of March 31, 75 people in the Dunedin area were on the state house waiting list, Ministry of Social Development (MSD) figures show.
The corporation has been focused on dealing with the effects of methamphetamine use and manufacture in its properties in recent months, and some of the vacant homes in Dunedin were methamphetamine-contaminated, it said.
Asked how many of the Murray St homes were contaminated, the corporation said it would respond in due course under the Official Information Act.
Information on its website showed four methamphetamine-contaminated houses in the greater Dunedin area as at March 31.
None of the Dunedin houses had been used for manufacture.
Any affected home would be decontaminated before it was sold.
The total number of state houses for sale in greater Dunedin was unavailable, but the corporation had sold eight houses in Dunedin between May last year and April this year.
"The Ministry of Social Development assesses all social housing applicants, including refugee families resettling in New Zealand,'' a corporation spokesman said.
"During this process, all applicants are asked many questions, including the number of bedrooms they require and their preferred location.
"This information, supplied by MSD to Housing New Zealand and other social housing providers, clearly shows there is a lack of ongoing demand for the type and location of the properties identified for sale in Mosgiel.''.
The Otago Daily Times also asked for the rateable value of the houses, which the corporation said would be considered under the OIA. The corporation has not identified which houses on Murray St will be sold.
Many of the Murray St state houses are multi-unit, and one four-unit property had a capital value of $385,000 on the Dunedin City Council rates information database.
A single dwelling also owned by the corporation had a capital value of $160,000.
Dunedin South MP Clare Curran acknowledged Mosgiel's distance from educational facilities and social services made it unsuitable for some tenants.
But that did not mean HNZ should get rid of the Mosgiel houses, she said.
She believed the MSD was "manipulating'' the state house waiting list to make demand appear low.
"When they say the demand is not that great, or there's people who don't want to go and live in Mosgiel, they're making it harder for people to get HNZ houses,'' Ms Curran said.
Ms Curran said she understood the Murray St houses had been empty for a long time, and needed significant refurbishment.
"They are not in a good state ... Housing New Zealand has not invested in them,'' she said.
PSO Family Works practice manager Melanie McNatty, who spoke out last week in the Otago Daily Times about Dunedin's homelessness problem, also said the official state housing waiting list did not reflect demand.
"I don't think they should be [selling them] or if they are selling them, they should be buying them in other places [in the Dunedin area] where there is need.
"We certainly weren't aware that there was that number of empty houses sitting around the city.''
Many vulnerable people no longer qualified for state housing.
"We've got someone coming out of hospital and we don't know where they're going to go, and they're not going to be eligible for state housing,'' Ms McNatty said.
Speaking out in the ODT had been positive, as state housing officials were now working with PSO to improve the situation.