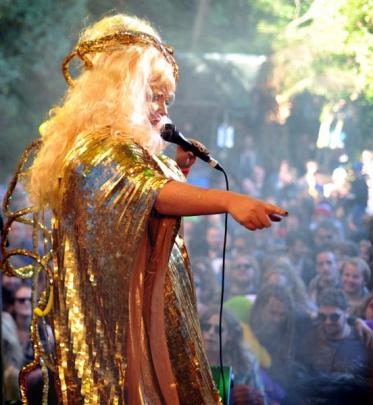 It used to be a gardener's nightmare - people dancing on the petunias and turning the back lawn into a mud pit suitable for army training exercises.
But this year's annual Dunedin Feastock event in the back yard of a student flat in Fea St, Dalmore, was on firm footing. Organiser Steve Marshall said in previous years, rain in the build up to the event and hundreds of people trudging around the back lawn left the area like ''a bit of a swamp''.
''It's nice not to have to walk around in gummies this year. It's nice and dry.''
The event is a DIY music festival featuring mostly Dunedin bands, and was established seven years ago by Mr Marshall and his fellow flatmates living at 3 Fea St.
''It was a chance to get a bunch of our favourite Dunedin bands and our mates together in one place. It's just grown from that.''
Saturday's festival line up featured Smoko, Males, Geysers, Death and the Maiden, Thundercub, Tahu and the Takahes, Rhythmonyx, Julian Temple Band, Iron Mammoth, the Fu King, the Maine Coons, Iron Tusk, the Entire Alphabet, Kentucky Fried Children, Ghetto Blaster, the River Jesters, the Violet Ohs, Osmium, Panther Claw, No Broadcast, and Ignite the Helix.
The afternoon session started at noon on Saturday at the Fea St flat, and moved to Refuel at the University of Otago for the evening session.
Mr Marshall said the festival continued to attract a large following, bringing people from as far away as Christchurch and Invercargill.
This year's event attracted more than 200 ''well behaved'' people, he said.
''The same people come back each year. It's become a bit of an institution in Dunedin.''