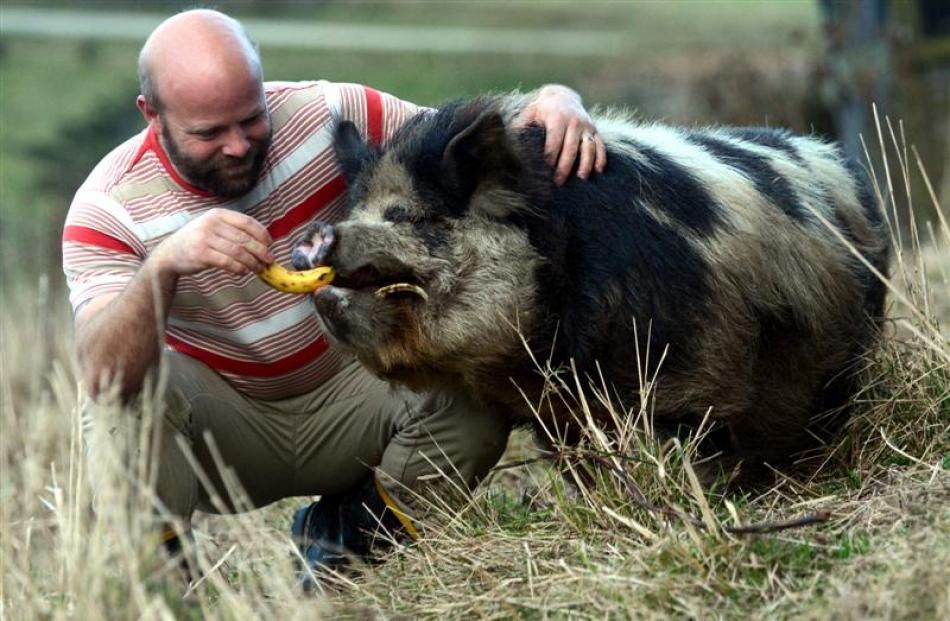 A Dunedin woman whose close encounter with a pig left her nursing bruises says she holds no grudge against the ''smelly'' swine.
The owner of the 150kg kunekune called Boris says the pig was simply seeking affection.
The woman, who did not wish to be named, said several of the stories circulating in the media yesterday about the attack on her by a pig on Purakaunui Rd on Sunday were a bit curly, so she set the record straight with the Otago Daily Times yesterday.
She had been sorting books for the upcoming Regent Book Sale in Dunedin and was driving to her Purakaunui Rd home.
About 300m from her driveway, at Mihiwaka, she stopped after seeing a large pig chasing traffic.
''You can't leave a big pig in the middle of the road - it's a bit dangerous.''
She got out of her car to open a nearby farm gate, but as she struggled with the latch, the pig nibbled on her trousers, so she retreated to her car.
''As I sat in the front seat, the pig got in the car on top of me - like a dog would - with his front legs and chest on top of me.''
The pig began chewing on the hood of her jersey, which was draped around her neck.
A man drove past as the pig climbed on to her.
''The next person who drove past, stopped and said, `Is this your pig?' which I thought was a strange question.''
She responded: ''Does it look like my pig?''
The man tried to remove the pig from the car.
''He tried to pull it out by the hair on its back and it wasn't moving, so he got a hold of its ear and twisted it and managed to pull it out.''
The corker porker left ''hefty bruises'' on her shoulder and thigh.
''It's a big beast ... it was a frightening experience.''
The ''smelly, phlegmy, dribbly'' pig had left its stench and scratches in her car. She and the man coaxed the pig to its paddock. Despite her scare, she wished the pig no harm.
''I don't want revenge on the pig.''
The pig's owner, Cam Romeril, said Boris would have been seeking affection because the family were out for the day.
However, he understood why 5-year-old Boris - who sported 10cm tusks - would have scared the woman.
''His personality will save him from becoming salami.''
The hole in the fence where the pig escaped had been repaired.
Dunedin City Council animal control officer Alister Wilden said it was the first time Boris had come to the council's attention. If there were more complaints about him, action could follow.