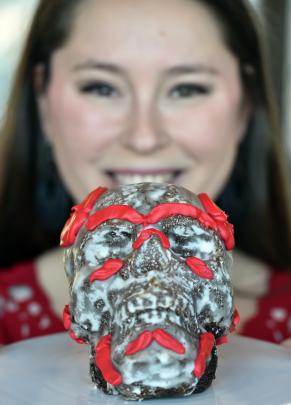 From a ''skull and cake bones'' to outsized lolly cake teeth, there was something for everyone at the University of Otago's first Bake Your Thesis competition.
About 15 master's and PhD students from different disciplines took up the challenge to represent their studies in a ''baked format''.
Keen baker and Graduate Research School scholarships administrator Dianne Hanson was chosen to judge the competition, along with Associate Prof Sarah Wakes and Maori Development Office research manager Mark Brunton.
Cakes were judged on creativity, rather than taste, but one of the basic requirements was the baking had to be edible.
The People's Choice winner was ''Teach someone to cook and they will eat well for a lifetime'', from human nutrition master's students Sarahmarie Innes and Katie Mahn. They created and iced a baked plate and cutlery, with fish and vegetables.
Overall winner was genetics master's student Lorissa McDougall's ''I incyst you try some'' - two kidneys, one treated and another covered in cysts.
 - Video courtesy Sharron Bennett
Graduate Research School professional practice fellow Kim Brown said as well as encouraging students to communicate their ideas, one of the aims was to give postgraduate students a break from their hectic schedules.
''It's hard for research students to take some time out, but they do actually need to do that for their wellbeing.''
The competition is part of this year's Graduate Research Festival, running at the university until August 10.
Anatomy PhD student Jade De La Paz said her chocolate cake skull, glazed with vanilla icing and featuring coloured cream-cheese icing to represent muscle, tied into her research on estimating biological sex from the skull.