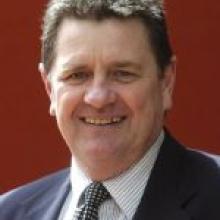 More than $1 billion in underground infrastructure across Dunedin is without insurance against natural disasters, after international reinsurers baulked at the risk after the Christchurch earthquakes.
Dunedin City Council acting chief executive Athol Stephens yesterday confirmed brokers acting for the council had been unable to secure cover against earthquakes, landslips and other disasters.
Existing insurance arrangements expired on July 1, leaving all underground infrastructure assets - such as water and wastewater pipes - without cover.
Some above-ground infrastructure assets - such as pumps and treatment plants, but not buildings - were also without cover, he said.
Council staff were exploring ways of providing self-insurance instead, drawing on existing council budgets and other funds, which would be presented to councillors for approval later this month, he said.
The council was still facing a doubling of annual insurance premiums, to $2 million, just to retain cover for buildings and other above-ground assets, he said.
Other southern councils are also scrambling to confirm their insurance cover after receiving notices of cancellation or new offers containing "horrific" premium hikes in recent weeks, the Otago Daily Times has learned.
DCC water and waste services manager John Mackie yesterday confirmed the loss of insurance was "a big concern" for his department, which was responsible for $1.6 billion of above- and below-ground assets in Dunedin.
The June 13 Christchurch quakes appeared to have convinced reinsurers Dunedin's risk was "just too great".
"In the meantime, the bets for underground assets are off."
The value of water assets no longer insured was expected to represent a "fair chunk" of the $1.6 billion portfolio, he said.
Council transportation operations manager Graeme Hamilton said council roading assets worth a further $186 million, including culverts, mud tanks, retaining walls, seawalls and even bridges, were also without insurance.
Mr Stephens confirmed that meant the combined total of underground assets no longer insured was more than $1 billion.
Losing the cover essentially returned Dunedin to the situation it was in 15 years ago, when cover for councils' underground assets was not offered, he said.
The council would instead rely on self-insurance, drawing on its annual renewals budget - worth about $25 million each year - if required, Mr Stephens said.
The council also had a letter of credit arrangement with Dunedin City Treasury Ltd, giving access to another $10 million for capital works if required, and $250,000 in annual funding for insurance no longer able to be bought, he said.
The loss of cover made Dunedin the latest victim of insurance uncertainty emanating from the Christchurch earthquakes.
It was confirmed last month Christchurch and Waimakariri councils would in future have no earthquake cover, while other councils remaining with the Local Authority Protection Programme (LAPP) fund faced 300% premium hikes.
Councils were required to pay 40% of repair bills - either themselves or through an insurer - to qualify for 60% support from central government.
The ODT also understands at least three Dunedin building owners have been left without some cover, after insurers refused to renew policies without more earthquake-strengthening work.
Elsewhere, the Queenstown Lakes District Council was also seeking a new insurer for its $133 million worth of buildings and other above-ground assets, council deputy chief executive and financial manager Stewart Burns said.
The council had material damage and business interruption insurance through Civic Assurance but received a notice of cancellation last week, he said.
The council now had three weeks to find new insurance for the above-ground assets, meaning more work for staff and the likelihood of higher premiums, he said.
"We thought we had got it all tidy - but obviously not."
The Clutha District Council was also considering options to cover $80 million of underground assets, after losing LAPP cover and deciding not to accept cover with "horrific" premium increases offered by another insurer, council chief executive Charles Hakkaart said.
Buildings and other above-ground assets would get insurance again at only slightly higher premiums, he said.
The staffs of Central Otago and Waitaki District councils could not be contacted for updates yesterday.
Last month, Waitaki council staff said they planned to remain with LAPP, despite annual premiums increasing from $25,000 to $100,000, while Central Otago staff said in April they had their own fund worth "several million dollars".