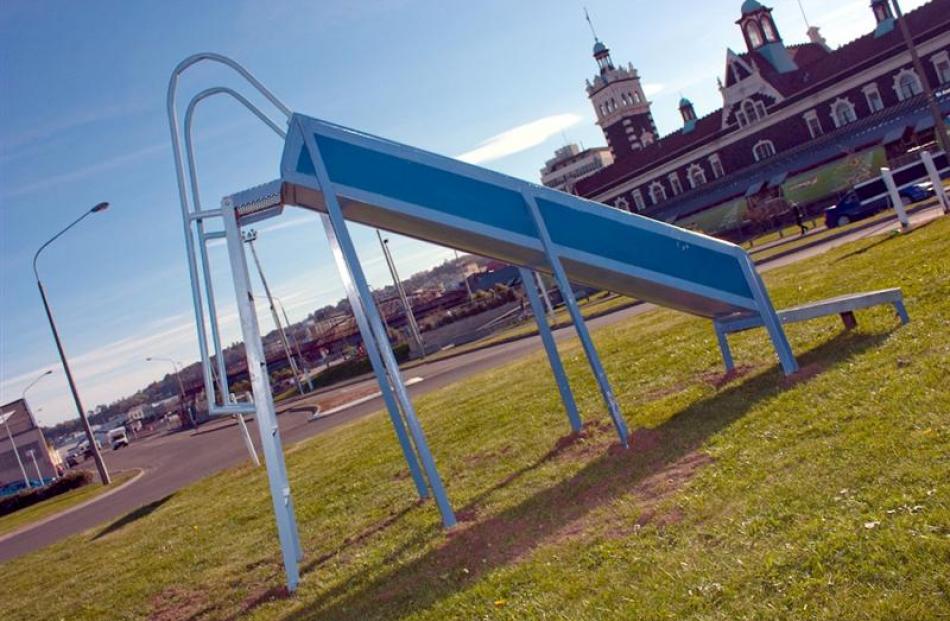 Is it a work of art, a lovers' tiff, a protest, or just a private joke?
Some Dunedin people seem to suspect the city's artistic community, following the appearance of a blue seesaw cemented over a city parking space at the weekend.
It followed the reported sighting of an "arty" male student in his mid-20s, sauntering down Vogel St about midday on Friday.
What stood out was what the young man was carrying - a large blue seesaw.
"It's just not something you would see someone walking up the street with," a reader told the Otago Daily Times yesterday.
The seesaw's appearance in the Dunedin City Council's Crawford St car park, cemented in place in an amateur way, has baffled council staff, who admit they have "no idea" what was behind its arrival.
However, readers yesterday reported the appearance of at least two other recent examples - a park bench roughly cemented in place on the edge of Bond St and a homemade slide near the Dunedin Railway Station. Both appeared about a month ago.
Freelance photographer Clive Copeman, of Dunedin, suspected an underground artist was having some fun. He photographed skateboarders making the most of the playground slide after it appeared on a roundabout on the Thomas Burns St side of the Dunedin Railway Station, about September 20.
The slide was the same colour as the seesaw and appeared homemade, with rough edges to its welds, he said.
"I think it's just a kind of private joke [or] guerrilla art.
"Personally, I love it - I think it's brilliant."
The slide had been removed by the next day, but Mr Copeman said he would like to see more of the creative work.
"I think we have got a very high standard of street art in Dunedin... I wouldn't like to see him [the artist] prosecuted, because it really adds to the city."
Last month, protest sacks were placed over the city's new parking machines. However, a member of the group linked to the stunt, Moray Pl gallery owner David McLeod, has denied any knowledge of the latest installations.
It also followed the appearance of artistically-decorated water-meter covers around the city in October and November 2006. Contacted at the time, the artist involved - who would not be identified - said his work was public art without permission.
Otago Polytechnic School of Art staff spoken to yesterday said they knew nothing that could shed light on the mystery.