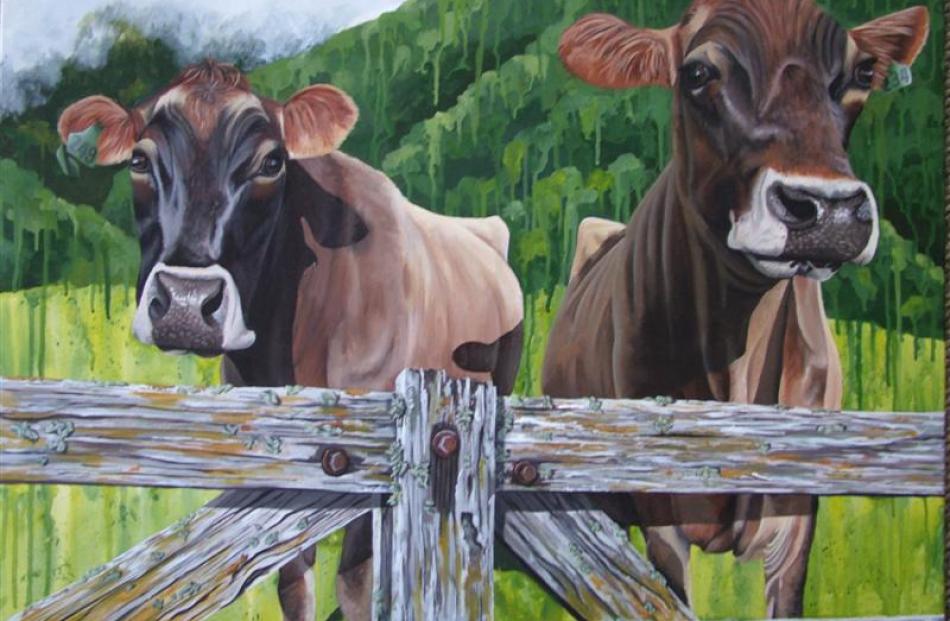 Artists are usually a colourful bunch.
But Mosgiel artist Marie Reid prefers black and white subjects.
''I've got a fetish for cows,'' she admitted, with a chuckle, last week.
''I started painting about 11 years ago and got into cows four or five years ago.''
In 2010 she had a bovine exhibition at the Wobbly Goat Cafe.
''All my paintings sold, except for the one of a rear view. So that may explain it; faces are prettier.''
Since then, her cows have appeared in art award exhibitions in Southland, South Otago, Wanaka, North Otago and Dunedin.
Last year, she won the TrustPower Award at the Art South Otago awards with a painting of young waxeyes sitting on a fence.
''Cows are my main thing, but I have also painted some stags. I like painting any sexy beast, really.''
She has also been painting commissioned montages for people leaving the district or retiring.
She enjoys correlating ideas and images that have significance to that person and the area they live in.
''When they receive their personalised original painting, they can be quite emotional - in a good way, that is.''
Mrs Reid also teaches art to schoolchildren in Mosgiel.