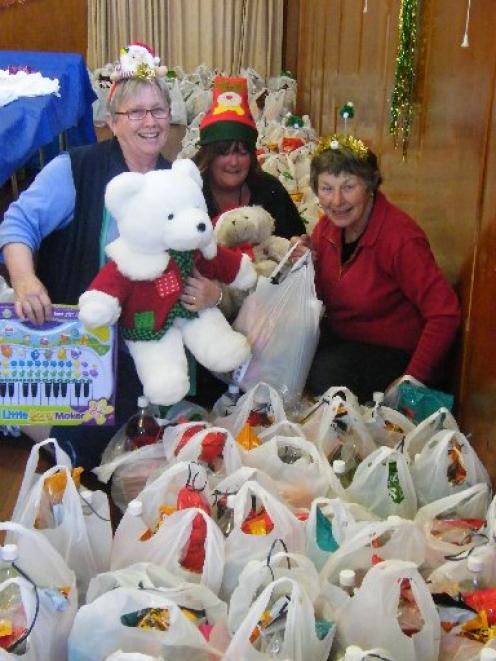 Christmas parcels containing food, treats and gifts have been delivered to 300 Dunedin families by the Dunedin Combined Christmas Foodbank.
The Christmas food and gift packages were prepared by the city's main food banks and distributed by social agencies as "a contribution to a Christmas meal for Dunedin families in need", St Vincent de Paul manager Ken Fahey said.
Volunteers and social agency representatives spent the day on Monday sorting and packaging goods, which were distributed on Tuesday and Wednesday.
The annual Christmas Foodbank programme has been running for about 10 years, with the aim of easing the stress of Christmas for families.
"Things are tough out there for many people and Christmas can add to the pressure," Mr Fahey said.
Most of the families that received the Christmas parcels were clients of social agencies.
"We know there are many more families out there in need but we have to stay within the resources we have," he said.
The city's foodbanks are continuing their regular work. Stocks were boosted by the recent Community Can Drive, in which emergency services and volunteers collected food from Dunedin households.
"The can drive is a tremendous boost to us," Mr Fahey said.
The food, treats and gifts distributed through the Christmas Foodbank were both donated and bought using funds donated by local organisations and businesses, he said.
Supporters of the Christmas Foodbank included businesses and Presbyterian, Anglican, Catholic and Methodist organisations.