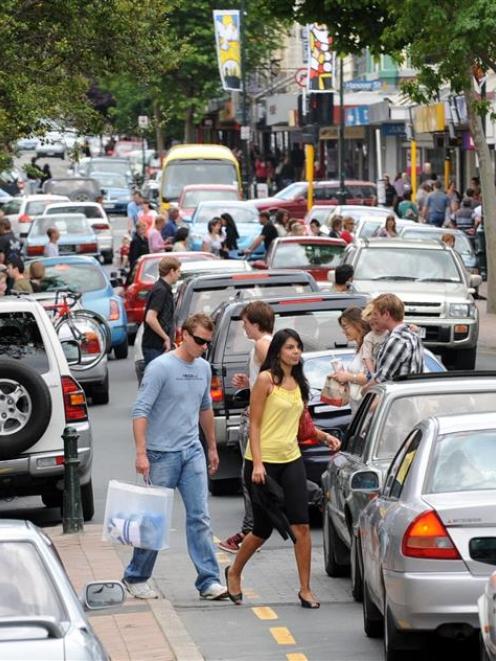 Could this be the last Christmas Dunedin has traffic chugging around the lower Octagon and Lower Stuart St?
Making the area pedestrian-only was mooted in 2014, when University of Otago students Alexis Belton and Georgina Hampton presented a proposal to the Dunedin City Council for the lower half of the Octagon and Lower Stuart St, to the Moray Pl intersection, to become a pedestrian zone.
While initially well received by the council, the proposal hit a snag later that year, when staff raised concerns that rushing a pedestrianisation trial in the area could be costly and have negative effects, if it went ahead without proper investigation.
Since then, the council has voted to close a section of Jetty St to traffic and convert the area into a pedestrian mall.
Those plans were confirmed during the council's final meeting of the year, last month. That decision is now open to appeals, but if none is lodged, the new pedestrian mall could be in place as early as next month.
Council urban design team leader Glen Hazelton said it was inevitable further pedestrian and shared spaces would be on the table this year, as the council began consultation and design discussions for its Central City Plan.
''Some mentioned in the past, I'm sure are going to be ones we'll look at in some shape or form.
''But exactly where they get to, who knows?''
The council was ''open-minded'' and would look at all options without a set agenda, Dr Hazelton said. The aim was to find options that satisfied as many people as possible.
Could further pedestrianisation work in a city with the size and climate of Dunedin?
Presented here is a selection of similar cities that have given over sections of their central business districts to pedestrians.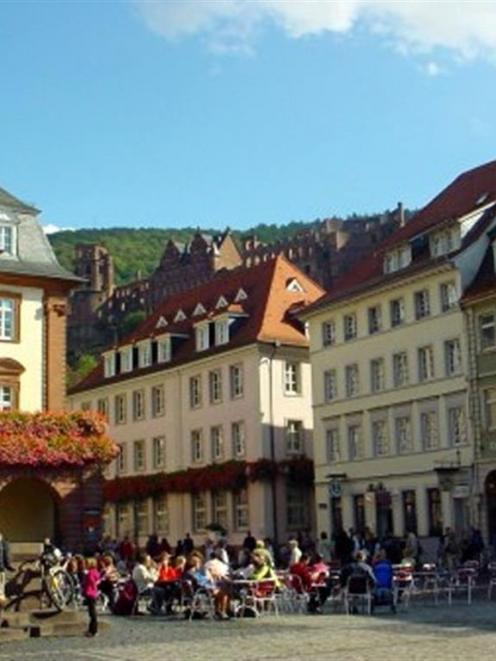 Heidelberg, GermanyPop:
150,000 approx
A university town on the banks of the river Neckar - a major tributary of the Rhine - Heidelberg has much warmer summers than Dunedin but significantly colder winters. Rainfall is comparable.
Its main CBD street, Hauptstrasse, is pedestrian-only for about 1.5km.
Dozens of side streets and parallel streets are also car-free, creating a pedestrian centre that houses the city's main retail, cultural and entertainment zones.
Galway, Ireland
Pop: 75,000 approx
A university town with a thriving tourism industry, Galway's temperatures are similar to Dunedin's, although it is considerably wetter.
The city boasts several pedestrian streets, centred on a long main artery made up of William St, Shop St and High St, connecting the city's main square to its waterfront.
Several other pedestrian streets branch off the main trunk, and the area is the heart of Galway's entertainment and retail zone.
Hobart, Australia
Pop:
218,000 approx
While bigger than Dunedin, Hobart's coastal location at Australia's southern tip bears similarities with Dunedin. Its winters are barely warmer than ours.
Hobart's main street, Elizabeth St, is a pedestrian mall for about 300m. The mall hosts the city's retail and entertainment hub.
Avignon, France
Pop: 90,000 approx
A university town in the south of France. While it boasts magnificent summers, winter is colder than Dunedin.
Pedestrian streets weave through the walled city centre, hosting retail, residential and dining options.
Inverness, ScotlandPop:
47,000 approx
While much smaller than Dunedin, Inverness boasts many pedestrian streets centred around the city's heart, the pedestrianised High St.
The city's winters are colder, summers cooler, and it receives considerably fewer sunshine hours than Dunedin.