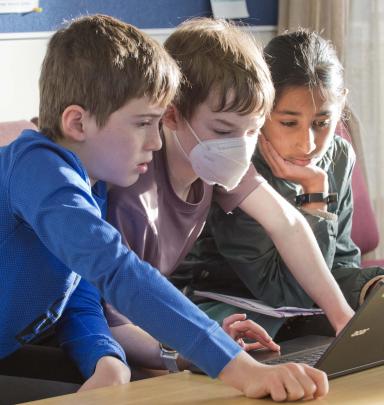 The standard of spelling was high as pupils across the country vied for first place in this year's ODT Extra-Tapiri spelling quiz yesterday. Otago Daily Times photographer Gerard O'Brien took in some of the action at George Street Normal School.
The standard of spelling was high, the competition was intense and the turnout for the ODT Extra-Tapiri spelling quiz was "fantastic" yesterday, an Education Perfect organiser says.
Teams of three pupils took on other teams around the country via a Zoom audiovisual link as the shift to online continued to increase participation and competitiveness in the annual Otago spelling competition.
The year 7 and 8 pupils in yesterday's national spelling quiz was decided by a tiebreaker after six teams tied for first place, Education Perfect marketing specialist Casey Kruishoop said.
"It was fantastic to see over 1800 pupils from schools the length of the country take part in today's quiz.
"We were amazed at the high standard of spelling, especially from the younger year groups, and to see a six-way tie for first was also a special moment.
"We love being part of the ODT Extra-Tapiri quizzes and look forward to hosting the current events quiz in September."
The top 10 teams from each year level would be invited back to a grand final at the end of the year, which would also include the top 10 teams from the current events quiz in September, she said.
ODT Extra-Tapiri marketing manager Jeff Paterson said yesterday's quiz had demonstrated the "real growth" in the relationship between ODT Extra-Tapiri and Education Perfect.
"Last year, we trialled these quizzes online for the first time, and learned a lot about holding events of this size.
"Today's quiz saw an additional 80 teams compete from last year which is very important to us.
"The real highlight, however, was seeing the pupils' excitement on the livestream as we announced the winners.
"This really brought home to us the investment that our teachers and their pupils put into these quizzes and that means everything to us," Mr Paterson said.
Results
YEAR 5+6
1. Opoho Primary School Team 2
2. Andersons Bay Team 1
3. George Street Normal School Team 2
YEAR 7+8 
1. Cobham Intermediate (Chch) Team 5
2. Cobham Intermediate (Chch) Team 1
3. Paekakariki School Team 2
YEAR 9+10
1. Otago Girls' High School Team 8
2. Otago Girls' High School Team 1
3. Otago Girls' High School Team 4