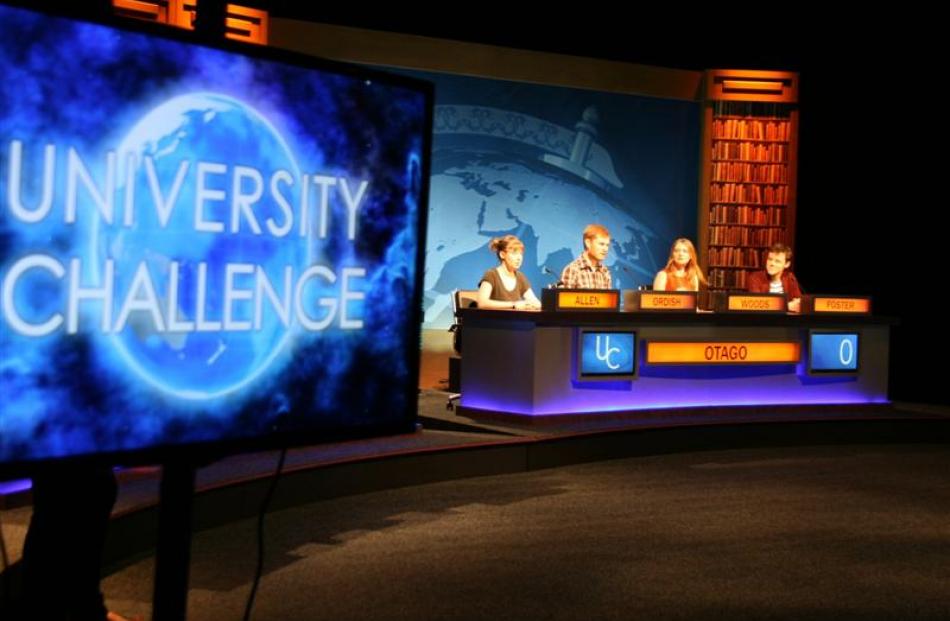 Former University Challenge question writer Lorraine Isaacs is back on the job. Allison Beckham quizzes the questioner.
This is one interview where the subject should be asking the questions - after all, veteran Dunedin television producer Lorraine Isaacs is particularly good at that.
Thirty-five years after writing the questions for the fourth season of University Challenge she is doing it again for a revival of the quiz show, which last aired 25 years ago, being produced by Invercargill regional television station Cue TV.
It has taken months for Miss Isaacs (67) and Cue TV presenter and quizmaster Tom Conroy to research and write the questions for the new show, with help from a team of specialists in various fields.
Last time around, only 1000 questions were required - this time 3800 are being used in 31 episodes of the show filmed in Invercargill this week.
''It took a huge amount of time to write and order the questions, and now they are just being demolished left, right and centre,'' Miss Isaacs said during a break in filming.
Her official title this year is question consultant and her spot during filming is at a table at the side of the set, noting who answers which question and sorting out any difficulties over interpretation. Fortunately, there had been few of those, she said.
There was a ''great art'' to writing quiz questions, she said.
''They have to have simple, hopefully one or two-word, answers - and because of the nature of the programme they have to progress through various pieces of information ... because contestants can interrupt.''
Another requirement was to write the questions so the answers would still be relevant months later when the programme went to air.
The questions could not be too difficult or too easy, Miss Isaacs said. She aimed for about 75% of questions to be answered correctly, as any more or less than that would be ''very boring'' for viewers.
But the biggest difference for her had been the arrival of the internet, she said.
''Last time, I wrote the questions sitting in the Dunedin Public Library with the Encyclopedia Britannica on my left and the Oxford Dictionary on my right.''
Can quiz question writers write questions on topics they know nothing about? Miss Isaacs' answer is an emphatic ''no''.
''Which means I haven't been able to write any about popular music, sport or mathematics, and very few about science. But if it's Greek mythology or English literature or history or geography I'm OK. That's why a team of people is required.''
University Challenge began in 1976 and screened annually until 1989.
In 1979, the first year Miss Isaacs was involved, there were no female contestants. The following year, when she wrote the questions and produced the show in Dunedin for TVNZ, she rewrote the rules so every team had to have at least one female member.
This year there is still a predominance of men, something she cannot explain.
All eight New Zealand universities have entered teams. Most contestants are aged 18-24, although there was one man from Massey ''nearly as old as I am'', Miss Isaacs said.
Watching the contestants this week, it appeared today's students knew different things from their counterparts a generation ago, Miss Isaacs said.
''We've only recorded half the programmes, but it seems to me they knew a lot more about English literature and poetry then and know far more about movies and movie stars and television these days.
''But I am amazed at how much today's students know. I am amazed at how smart very many of our contestants are, and what a wide range of knowledge they have.''
Miss Isaacs, who is semiretired, began working two days a fortnight for Cue TV ''and its previous incarnations'' about 17 years ago.
She said Conroy repeatedly told her over the years he was going to find out who owned the copyright to University Challenge, secure the rights to the show and revive it.
''When he said he had done that, I knew without being asked that I would be helping with the questions.''
She hoped there would be another series and she could be involved, she said.
''I love it ... One day I will be too old to even know what students know and won't be able to do it, but until then I will enjoy being part of it.''
Cue TV producer Sheree Carey said a crew of 26 had been brought in from around the country to help with filming.
The show would screen on Cue TV, which can be picked up around the country, and the company was also negotiating to sell it to a national broadcaster.