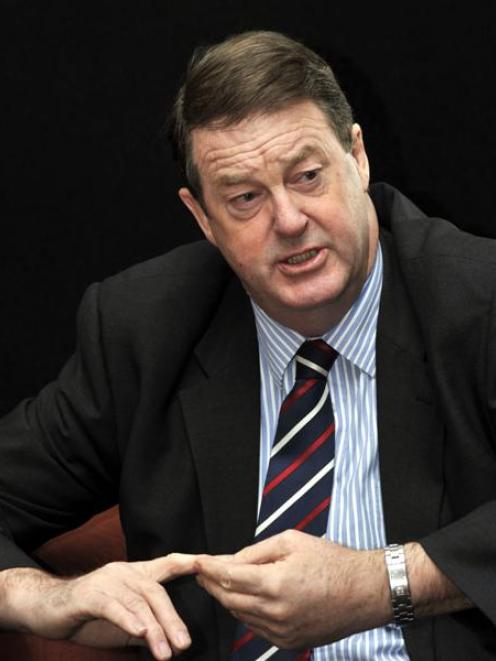 An attempt to destabilise his role as police commissioner in Tonga could have put the security of the country at risk if it was successful, former Dunedin policeman Chris Kelley says.
Mr Kelley (61) was appointed police commander to the island nation in 2008 after an invitation by the Tongan Government for New Zealand assistance in finding someone to lead a police development programme. He was latterly appointed police commissioner.
The first two and a-half years of reforming and strengthening the Tongan police force went extremely well, said the 43-year veteran policeman.
Peaceful and safe elections were held in November and a new Police Act, featuring "cutting-edge" legislation, had been introduced by Parliament in February.
"The biggest thing was we had simply improved public trust and confidence in the police."
However, the process very nearly got de-railed earlier this year on the basis of a "very small number of people", he said.
"It became clear in February-March there was a small number of police officers, upset and concerned that one or two had been passed over for promotional purposes."
As part of the reforms a disciplinary and professional standards system had been set up and complaints against police were investigated which some "were not entirely comfortable or used to".
He had challenged the approach that all were equal in the eye of the law with a few exceptions, he said.
"With me there were no exceptions. That may have ruffled a few feathers."
In his time in Tonga, 272 complaints were laid and 16 officers had gone before the criminal courts on a variety of charges including violence, theft and bribery.
In January, a new police minister had been appointed who believed in a more ministerial-led police force, Mr Kelley said. Mr Kelley had made the commissioner's role independent and had retired from the New Zealand Police to ensure that was the case.
The small group went to the minister with their concerns, presenting two petitions complaining about the promotional and disciplinary issues and asking for him to be removed from the role, Mr Kelley said.
"It was a move to destabilise the commissionership. If I had allowed it to happen, the security of the country could have been at risk. I was determined that would not happen."
He was disappointed, as he believed he had support from the majority of staff, but had since learnt some signatories to the petitions, judged illegal by the solicitor-general, had done it under duress or not knowing what they signed.
"Whether or not they expected me to fold up and go home three months ago, they were sadly mistaken."
At this time, his contract, which had a term of three years, plus an optional two, was due to be renewed.
The police minister advised him that his contract was not to be renewed but did not give a reason.
Mr Kelley was then invited to the king's birthday celebrations and was awarded a medal for services to policing in Tonga.
Due to the leave provisions in his contract, he left Tonga last week and returned to New Zealand.
He left the position disappointed the situation had disrupted the progress that had been made.
"We've put down in three years, very good foundations."
As well as building public confidence, police had been upskilled so they could deal with armed offenders, the investigations and prosecutions around the Princess Ashika ferry disaster had taken place, and there had been success dealing with drug trafficking and people smuggling.
"It wasn't rocket science. Just basic policing, putting into place integrity and accountability."
He was now in the unusual situation where the public was calling for his return and there might be an opportunity to reapply for the position, he said. Whether he would or not, he still had to decide.
"I think there is some recognition by the Government now that some people cannot accept change." In the meantime, he planned to meet his wife in the United Kingdom and take a six-week holiday catching up with his children and grandchildren.
---
Tonga
Population: About 100,000.
Police officers: 423.
• Spread across six districts and 160 islands.
• Two-hour flight from Nuku'alofa headquarters to furthest island.
---