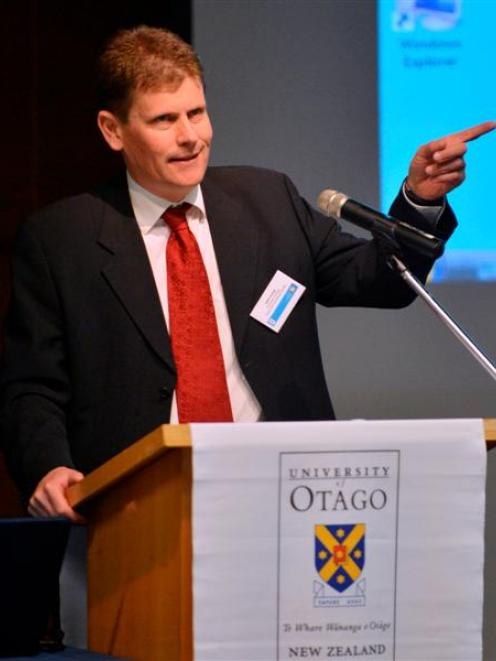 Despite dramatic improvements over the past two decades, there is no room for complacency about major health challenges still facing many Asia-Pacific countries, Prof John Crump says.
He was commenting after presenting an annual ''global health perspective'' update at the sixth Otago International Health Research Network Conference at the Otago Museum yesterday.
Prof Crump is co-director of the University of Otago Centre for International Health, which supports the network.
He said the ''Global Burden of Disease 2010'', the latest in a series of studies co-ordinated by researchers at the University of Washington, had been published late last year.
These global health estimates showed between 1970 and 2010 there had been ''considerable progress'' with child survival, except in parts of Africa, he said.
However, there had also been marked increases in deaths among reproductive age groups - aged 15 to 49 years - in Africa, Russia, South and Southeast Asia, and parts of Central and South America.
Several causes had contributed, but HIV had played a big role in Africa.
The health study also showed that maternal disorders throughout the world had declined ''quite markedly'' between 1990 and 2010, but neonatal disorders remained largely unchanged.
Diarrhoea, lower respiratory tract infection and other common infectious diseases had been reduced, but cancer and cardiovascular and circulatory disease were increasing as causes of death.
Deaths in children aged under 5 had declined from 12.4 million in 1990 to 6.6 million last year, and since the year 2000, measles vaccines had averted more than 10 million deaths.
Children born into poverty were almost twice as likely to die before age 5 than those from wealthier families.
Significant public health gains had been made in many Asia-Pacific countries, and the progress achieved in China had been ''incredible'', he said.
However, in many Asia-Pacific countries an existing burden of infectious diseases remained and, in China and elsewhere, other forms of illness, including cancer and cardiovascular diseases, were increasing, partly because of the adoption of a more Western diet and smoking.
In an opening talk at the conference, Dunedin-based National list MP Michael Woodhouse praised the achievements of the Centre for International Health, and of Prof Philip Hill, the centre's inaugural director.
Mr Woodhouse is a former chief executive of Mercy Hospital, and its owners, the Sisters of Mercy, had earlier endowed the McAuley Chair of International Health, which is held by Prof Hill.