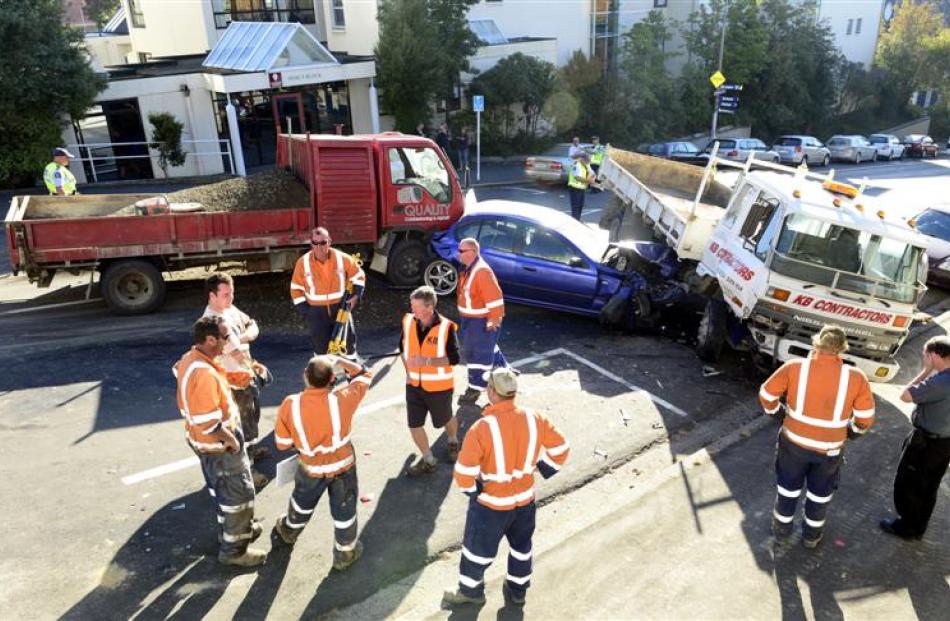 A runaway truck coming down a steep Dunedin street resulted in damage to seven vehicles and two people taken to hospital. However, those involved say it could have been much worse.
Emergency services were called to Rattray St at 8.45am following reports of the crash outside Kavanagh College.
Mark Lamb, of Quality Cobblestoning and Asphalt, said one of his drivers was driving down Rattray St with a full load when it appeared ''the brakes failed on him''.
The truck had shunted into the back of a Ford Falcon, which then smashed into a KB Contractors truck waiting to drive up the street.
Mr Lamb said he was thankful no-one was seriously hurt in the accident and ''could you imagine how I felt when I drove around the corner and saw that''.
KB Contractors director Kelvin Read said one of the company's trucks was waiting in a line of traffic to go up Rattray St, when the ''Falcon arrived at a great rate of knots followed by the red truck''.
The shunted car slammed into his vehicle, and ''we were the big dam wall, I suppose''.
The truck was spun sideways before coming to rest against parked cars and the pavement.
''Where the hell would that Falcon have gone if we weren't there . . . there were school kids around, so who knows?''The company had other employees working nearby, including one who was sweeping in the area when the accident occurred right in front of him.
''He did a hop, skip through the tulips and didn't know which way to run.''
A police spokeswoman said two people - the driver of the KB Contractors truck and the Falcon driver - were taken to Dunedin Hospital as a precaution and were later discharged. Police are investigating.