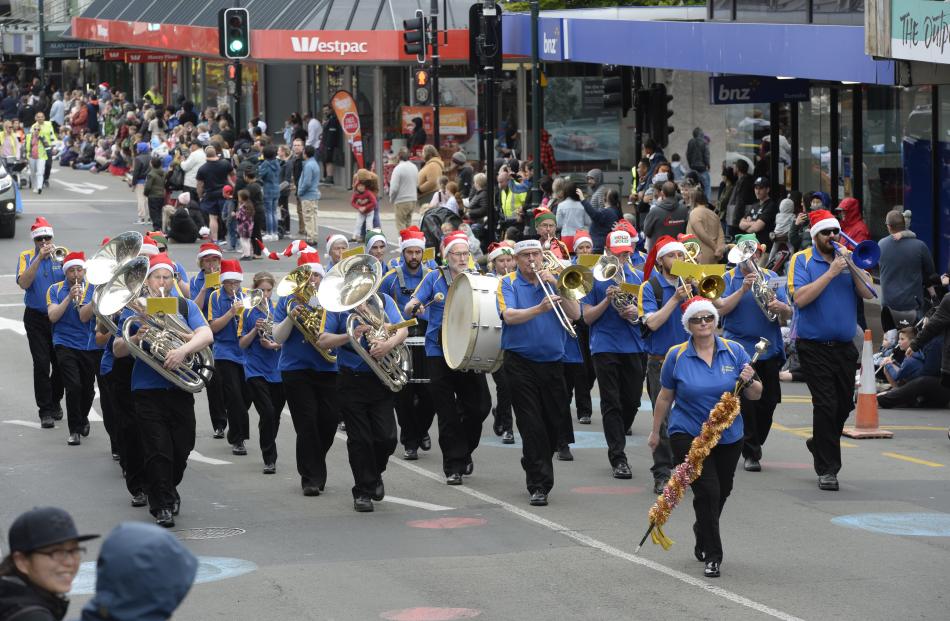 A dragon, dinosaur, penguins, Harry Potter and even the Grinch took to Dunedin's George St yesterday to mark the start of the silly season.
The cool, windy conditions did not deter thousands of revellers of all ages from lining the street to catch a glimpse of the big man himself at the Dunedin Santa Parade.
Children could not contain their excitement while waiting for the parade to begin and vented it by running around the street, blowing bubbles, playing games and finding their school friends in the crowd.
Harriet Long (8) and Georgie Doherty (9) were among them.
Harriet said she was excited to see Santa, but would not be waving him down.
"I'm too nervous to get Santa's attention."
She would be posting her wish list off to him soon, she said.
Sitting patiently on the footpath was Tui Penno (2).
It was her first Santa Parade and she had put together an outfit for the occasion herself, which included a Santa hat, green jumper, Christmas leggings, and a ballerina tutu to complete the look.
When the parade began, it did not disappoint.
The Mosgiel Brass Band, Silverpeaks Country Music Club and Dunedin's Rock n Roll Revival Club provided festive music, while Star Wars and Harry Potter-themed floats, and a giant dragon, offered plenty of entertainment.
On board a pirate ship was Dunedin Mayor Aaron Hawkins and his son Emile (4) waving to the crowd which exceeded last year's turnout.
Santa Parade Trust chairwoman Michelle Ellwood believed the crowd was well over the 40,000 people who attended last year.
It was the busiest she had seen it in, at least, the past five years.
"It was good to see how enthusiastic everybody was that the parade was able to be held after such a terrible year," she said.
"The community spirit was just fantastic."
She thanked all of the volunteers who helped the trust make the event happen.
After Santa Claus made his much anticipated appearance, the crowd dispersed for yet another year.