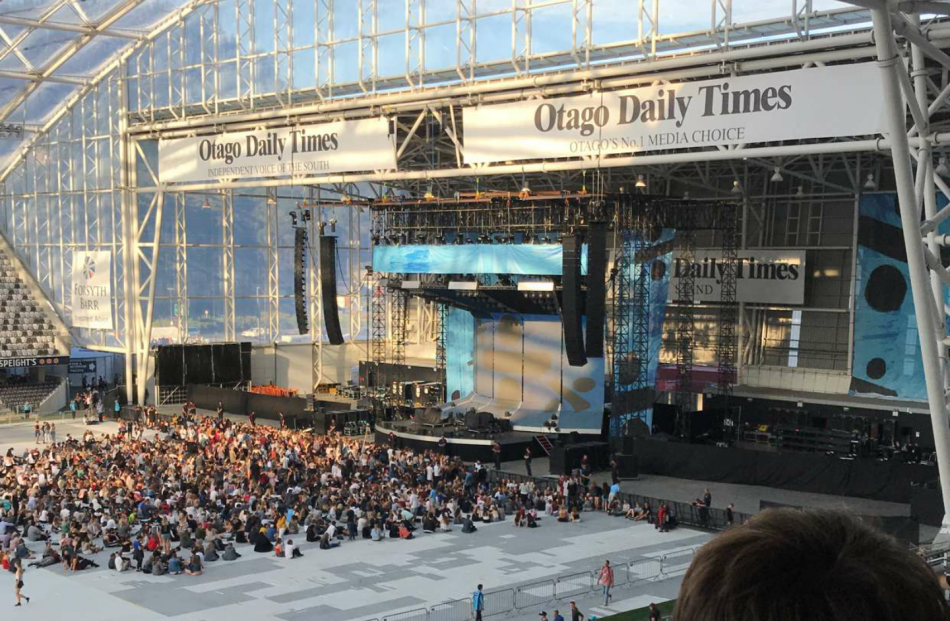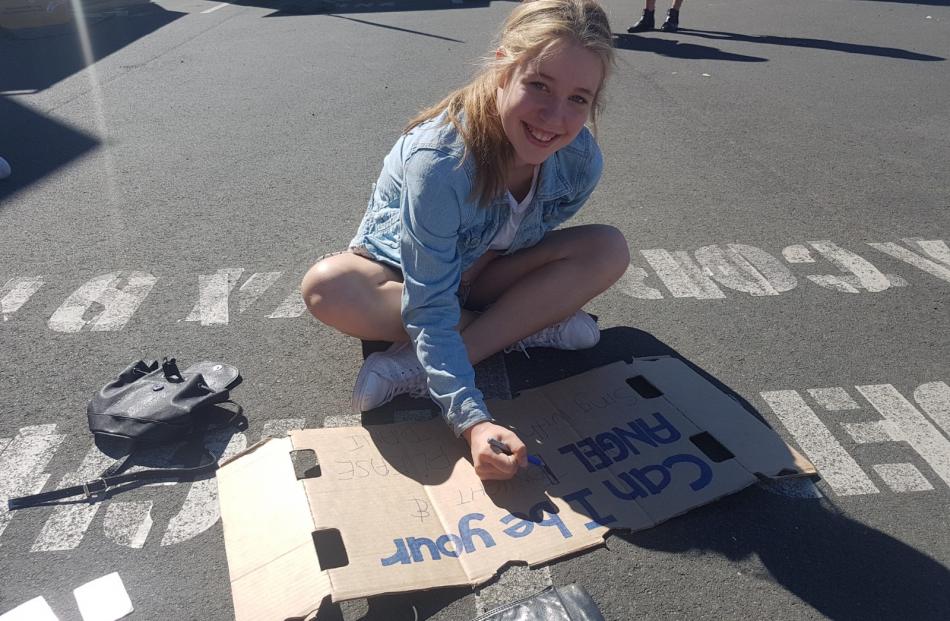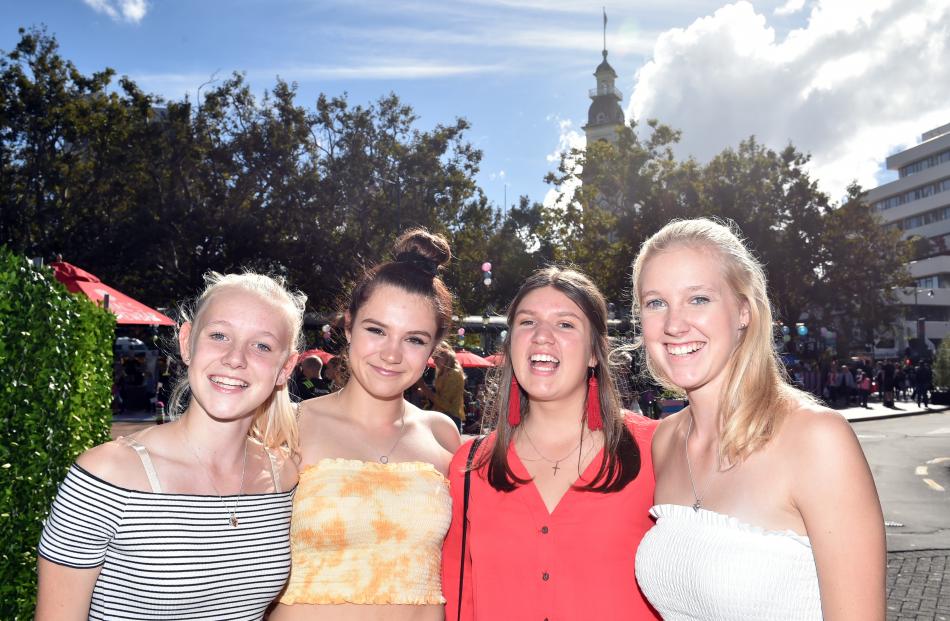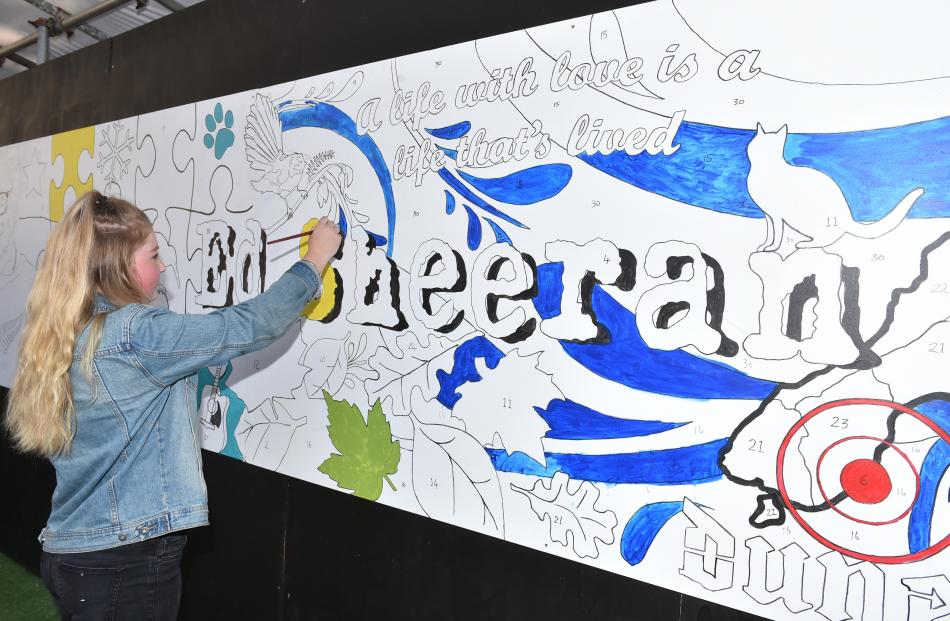 If that was the first of three then quickly get in the queue for the next two.
Ed Sheeran was fantastically good last night.
He seems like a decent bloke who is just playing a few songs in front of his mates. In reality he entertained 35,000 plus at Forsyth Barr Stadium, which showed it can handle concerts of this stature.
He had all his hits and his recent big smash, Perfect, was, eh, perfect, and went down a storm.
There was the usual lengthy queues for the toilets and the grog but you get that anywhere when a large number of people congregate.
The show has just wrapped up with the customary encore with the songs Shape of You and You Need Me, I Don't Need You.
The light show was great and his set is not elaborate, leaving it all up to Sheeran to entertain, which he duly did.
The man from Halifax has two more concerts to complete his Dunedin stay.
Saturday's gig is sold out but there are a few tickets left for Sunday night's concert.
Ed Sheeran began his show tonight by walking on stage with that cheeky friendly smile.
The watching 35,000 odd fans under the roof at Forsyth Barr Stadium, here in Dunedin, have gone - as expected - crazy, and Sheeran looks up for it.
He has started the concert with one of his hits from last year, Castle on the Hill, and it has gone down a treat.
As he took to the stage he told his adoring fans it just "might be the best night of the tour".
"Hello Dunedin. You guys are mental.
"I don't want to call it but I do believe this might be the best night of the tour."
He said he had a day off tomorrow and planned to spend it having a look around Dunedin.
Later he started a chant of Waisake Naholo and everyone in the crowd enthusiastically changed back.
Sheeran went on stage about 8.45pm and was expected to play for about two hours.
The support act Six60 - a band formed by students when they were at the University of Otago - so it was a return of sorts for them - put on a great prelude to the main act and the crowd was right amped up.
Of course, this being the modern age, everyone is checking their phone and sending texts on how excited they are.
Funny one that - the most popular artist in the world is singing in front of you but you want to send a photo of you at the concert. Why don't you just watch it?
Three hundred and fifty fans of all ages poured off the "Ed Express" train at the Dunedin Railway Station at 6pm, with hundreds more walking down from the Octagon to the Forsyth Barr Stadium for the first of three Ed Sheeran's concerts in Dunedin.
Throughout the afternoon the city's streets and cafes were packed with people, with parking scarce.
Dunedin woman Tania Flanagan who was going to the concert with her husband, Jay, and their children Autumn (8) and Jack (6) said the family had been fans of his for "ages".
There was an "awesome" atmosphere in Dunedin in the lead-up to the concert, she said.
Another Dunedin resident, Joy Smart, said the number of people in the city was "just amazing".
"The whole city is just manic."
She admired Ed Sheeran because he seemed to be a "down-to-earth" musician and a nice person.
Blenheim resident Tahlia North (13) said she had driven down with her family the day before and was looking forward to hearing Ed Sheeran sing, while a Cromwell man making his way down towards the stadium described himself as Ed Sheeran's "number one fan".
However Blenheim man Kevin Newton, who had come down in a group, said he was not a big Ed Sheeran fan but he still thought it "could be a laugh".
Christchurch residents Karen and Stewart Brougham said they left early in the morning and were expecting the concert to be "absolutely" great.
Several people said they admired Mr Sheeran's personality, as well as his music. Te Anau residents Noelene Cunningham and Carolyn Fox were attending the concert with their daughters Gabbie Fox (12), and Niamh Cunningham.
Ms Fox and Ms Cunningham said they were "definitely" looking forward to the concert and they admired Ed Sheeran because he was "a good guy" and "family friendly". 
People are making the most of the seating and interactive games spread around the area.
Concert-goer Polly Hanson-Friend (19) said the area had a great atmosphere.
"It's actually pretty chill, but there are heaps of really nice things everywhere. I love the lanterns."
She admitted the vibe might not be so "chill" later in the night.
Traffic was earlier backed up on the road from Christchurch to Dunedin as fans make their way south and the fencing had to be put up on Bath St as fans flocked to get pictures taken with the Sheeran mural.
By just after 1pm a line of 120 of hardcore Sheeran fans were waiting outside Forsyth Barr Stadium to ensure a good spot for tonight's concert and numbers had swelled further by 4pm.
The most hardcore, who started waiting last night, were attempting to get a bit of sleep early this afternoon after a night interrupted by rain.
Among them were , Annabelle(14) and Laura Ring (12), of Dunedin, among the about ten super fans who started waiting last night, who said they were confident of having a great night despite being tired.
Annabelle said she hoped "adrenaline" would kick in
Dany Musgrave (13), of Christchurch, lined up about 1pm after getting up about 6am with the rest of her family and being driven from Christchurch.
She was busy putting together a sign asking Sheeran if she could get up on stage and sing with him, which would fulfil a lifelong dream.
"I've always wanted to go on stage and sing with a famous singer," she said
More than 100,000 people have bought tickets for Ed Sheeran's three shows at Forsyth Barr Stadium over the next few days and the shows are expected to bring in $34 million to the local economy.
The singer touched down at Dunedin Airport in a private plane just after 7pm last evening and was quick to head to Bath St to see ''his'' mural.
The city has prepared for Sheeran's visit with extra emergency services, extra council services including transport, special events and beautified streets.
Senior Sergeant Mark Donaldson, of Dunedin, said extra police staff would patrol the stadium and Octagon areas, although he would not specify how many.
''Obviously a considerable amount, because it's one of the biggest events Dunedin has ever had, if not the biggest.
A ''considerable amount'' of traffic was expected from Southland and Canterbury. In particular, commuters should expect "significant delays" in the city and on State Highway 1 north.
''Additional resources are being pushed on to our highways to make sure people are driving safe and to the conditions. We're also having to factor in people travelling over from Warbirds.''
People should plan their journeys early in case of delays, he said.
Police had added significant extra resources for the weekend of Ed-mania, but Sheeran would not be getting a dedicated police escort.
St John coastal Otago territory manager Doug Third said an extra ambulance would be on the road during day and night shifts in preparation for the busy weekend.
St John was expecting a ''marked increase'' in callouts.
Twenty St John staff would also be working at each concert.
Fire and Emergency New Zealand East Otago area commander Laurence Voight said the service would have an extra vehicle dedicated to the concerts at or near the stadium.
Southern District Health Board acting operations general manager Joanne McLeod said extra staff would be on duty at the Dunedin Hospital emergency department over Easter.
''We want Dunedin residents and visitors to enjoy themselves, and our message is everything in moderation. Don't binge-drink, keep hydrated, be sensible in the sun and keep safe.''
She advised people to ''keep the emergency department for emergencies''.
Dunedin Mayor Dave Cull said Sheeran's concerts were likely to create the single biggest inflow of money ''from essentially one event'' Dunedin had ever had.
''We're as ready as we'll ever be.
''What I can say is that I am aware of all the work the council and others have put in, including obviously stadium staff. I'm delighted that we've taken it as an opportunity to show what a great host Dunedin is.''
A lot of work had gone on behind the scenes to ensure everything ran as smoothly as possible, and to make sure events were spread throughout the city, he said.
The Dunedin City Council is providing extra bins and waste collections to cater for the crowds.
Council community services general manager Simon Pickford said waste collection and street cleaning would be done each day around the Octagon, with crews available to respond if needed.
Three extra parking enforcement officers would be working tomorrow, Sunday and Monday to ensure people followed restrictions, particularly around mobility parks and loading zones.
The Lower Octagon and part of lower Stuart St have been closed to traffic to create the ''Octagon Experience'', which the council describes as a central hub for concert weekend activities and performances.
It is filled with street furniture, plants and accent lighting.
Parking restrictions are in place around the stadium from 2pm to midnight each concert day to encourage people to ''walk and use public transport to get around town''.
Buskers and food stalls will be stationed along the walk down Stuart St to the Railway Station and along Anzac Ave to the stadium.
The city and regional councils were providing extra transport, including bus services extending until 2am.
Train trips to Dunedin Railway Station from Mosgiel before the show, and back afterwards, have sold out.
Dunedin Venues Management Ltd chief executive Terry Davies said the huge crowds would ''stretch anyone''.
''We've planned well and we're ready for it.''
Protocols were the same as usual, but on a larger scale, he said.
''What comes with bigger crowds is bigger demand for food and beverages.''
Each night more than 800 staff would be working at the stadium.
Small numbers of tickets were still available for the Sunday show, he said.