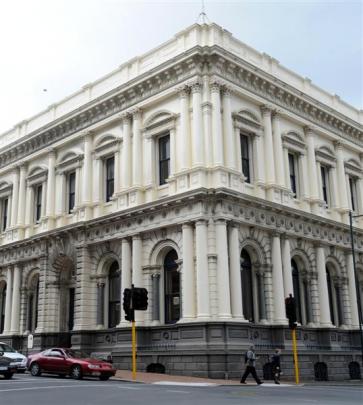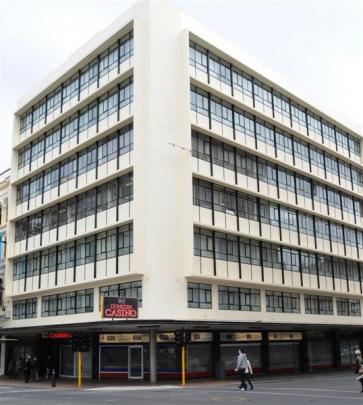 Princes St and the Exchange area, where the Toitu stream once flowed into the harbour, was where local Maori beached their canoes on the tidal mud flat and also where the first European settlers landed - there is a plaque on the footpath at the corner of Water St and Princes St marking the spot.
Nearby Jetty St is so named because it led to the jetty.
• Slideshow: Grand buildings dominate the Exchange (more pictures)
As wealth in Otago was generated first by wool then the gold rush, the mud flats were reclaimed and the settlers replaced their original timber huts with more substantial buildings.
Dunedin soon became the country's leading commercial centre and many firms built grand head offices and warehouses here in the late 19th century.
William Mason's Stock Exchange, originally designed as the post office (1868-1969), and the bond store, later known as Edinburgh House (1865-1983), each filled a block but have long gone.
Among those remaining are the former Bank of New Zealand (1879), the former Union Bank, later ANZ Bank (1874), and the Grand (1883) and Wains (1878) hotels, now the Southern Cross and Mercure hotels respectively, and buildings dating from the gold-rush period on the corner of Princes and Stafford Sts still awaiting a resource consent for demolition.
Early in the 20th century, other grand buildings were erected including the former National Bank (1912), Dunedin's first "skyscraper" the seven-storey NZ Express Company Building (1908) now Consultancy House, and the largest in the area, the former Chief Post Office (1937).
However, as the centre of commerce shifted away from Dunedin in the 20th century and fashions changed, people thought the city should be modernised so many Victorian facades were plastered over and their pediments and balustraded parapets removed, according to Michael Findlay, professional practice fellow in the design studies department at the University of Otago.
"It was justified by the issue of earthquake standards, but was more to refashion buildings to make them more acceptable in the post-war period. There was a loathing of Victorian things in general. People didn't see them through the heritage preservation lens," he said.
We are in danger of repeating this now with modern concrete and glass buildings of the 1950s-'70s.
Several notable examples of these add their gravity to the Exchange area, among them the former National Insurance Company, now Go Dunedin House (1958), designed by Dunedin architects Mandeno and Fraser, and the former State Fire office, now part of the Southern Cross hotel and casino, designed in the 1950s by Salmond and Burt.