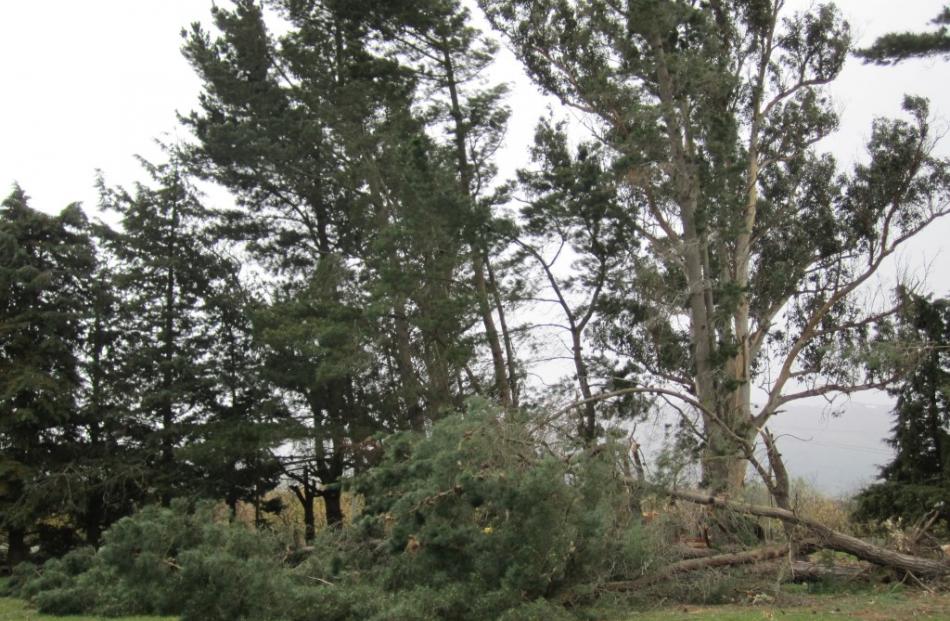 Fiordland is "lighting up like a Christmas tree" and rivers are rising rapidly in Southland, while what is thought to have been a tornado flipped a boat and smashed it in Central Otago .
Environment Southland activated its online flood warning service about 2.30pm as the headwaters of Southland's major rivers began rising following heavy rainfall this afternoon.
About 37.5mm of rain has fallen today at Hamilton Burn in the Takatimu Ranges in the Aparima catchment and more was forecast.
Environment Southland Flood Duty Officer Andrew Kirk said the Metservice had forecast an additional 38mm to fall at the headwaters of the Oreti River overnight.
At 5.30pm the Mataura River at Fairlight Station was 0.31 metres above normal and rising 243 mm/hour; the Waikaia River at Piano Flat was 0.32 metres above normal and rising 236 mm/hour; the Aparima River at Etalvale was 0.81 metres above normal and rising 300 mm/hour; and the Hamilton Burn at Waterloo Road was 1.63 metres above normal and rising 226 mm/hour.

MetService has issued severe weather warnings for the lower half of the country, as an active front approaches the South Island before moving over the lower North Island tomorrow.
"There's a lot of lightning in the south. It's lighting up like a Christmas tree across Fiordland and that's the start of this very active front," said MetService metrologist Daniel Corbett.
There was also extremely heavy rain in the south of the country, and Milford Sound had received about 20mm in an hour this morning.
"It's almost like having a fire hose turned on. They're going to be in for easily a couple of hundred of millimetres of rain over there," Mr Corbett said.
Cromwell resident Jade McLellan said what she thought was a tornado picked up her father's boat and flung it over the neighbour's fence about 11am.
"We had a big gust of wind come through which picked up the neighbours trampoline and spun that above fence level. Then we saw the boat flip up off its trailer and into the next door neighbour's yard. Now it's quite demolished."
Neighbours had seen what they thought was the funnel shape of a tornado approaching their house on Ethereal Crescent about 11am.
"The wind really picked up and was throwing itself on the house and mum was yelling at everyone to get into the lounge. As I came through the hallway I looked through the sliding door and saw the boat flipping. It's quite crazy," Ms McLellan said.
The whole incident lasted about 20 seconds.
"There's only few houses and fences around our house that are damaged. Apparently a window was blown out up the road, but apart from that it seems to have passed most people by."
A police southern communications centre spokesman said officers attended the scene, but were unable to confirm whether it was a tornado.
Dunedin police were also attending to a truck which overturned on the Northern Motorway due to heavy winds, he said.
The driver received minor injuries.
Dunedin police advised motorists travelling between Oamaru and Dunedin - particularly high-sided vehicles, campervans and motorcycles - on State Highway 1 to take extreme care.
They were attending two separate incidents on SH1 as severe winds battered Otago's east coast.
A Jetstar flight from Auckland to Dunedin flew back to Auckland after being unable to land, while a Virgin Australia flight from Brisbane was diverted to Christchurch. Seven other flights into Dunedin were cancelled, as well as eight departures. 
Mr Corbett said the active front was preceded by a very strong northwest flow, with heavy rain and thunderstorms on the West Coast from Fiordland to Nelson, spreading east over the Otago and Canterbury headwaters.
Tomorrow, the front would move up central New Zealand into Taranaki and the Central Plateau, bringing a risk of heavy rain on Thursday, Mr Corbett said.
Northwesterlies are expected to rise to severe gale for most eastern parts of the South Island, and also Fiordland, Wellington and Wairarapa with gusts of 120km/h. Damaging gusts of 140km/h around inland Canterbury and the Canterbury Plains north of the Rangitata River are also expected in the next 24 hours.
The strong winds are likely to bring down trees and powerlines, making driving dangerous - especially for motorcycles and high sided vehicles.
By mid-week, the strong winds and wet weather would focus on the North Island.
A severe weather watch for heavy rain has been issued for Mt Taranaki, the Tararua Range, the central North Island high country and eastern Bay of Plenty.
MetService also warned there was a chance of very strong winds in Hawkes Bay.