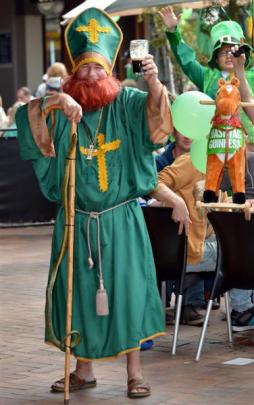 Emergency services were seeing green yesterday following a steady stream of St Patrick's Day callouts.
A large, green-themed party at Woodhaugh Gardens attracted an estimated 200 revellers and the attention of police in the afternoon.
Sergeant Ben Butterfield, of Dunedin, said police were called to disperse a group of largely good-natured partygoers in nearby Malvern St.
Two of the green-clad party-goers were arrested for behaviour offences, he said.
''There were also some reports of smashed bottles, which is obviously disappointing.''
Several large parties in the North Dunedin area kept emergency services busy, with reports of several stereos being seized by authorities, he saidPolice also helped ambulance staff after a female reveller cut herself on broken glass.
The Fire Service attended several fires, including a couch fire in Castle St just before 6pm and a mattress set alight on Leith St two hours later.
Sgt Butterfield said it was ''disappointing fire-lighting had made a return'' after a quiet start to the student year.
''Of course, anyone we do apprehend lighting a fire will be dealt with by the courts, with no diversion being offered.''
- Video courtesy Dunedin Television