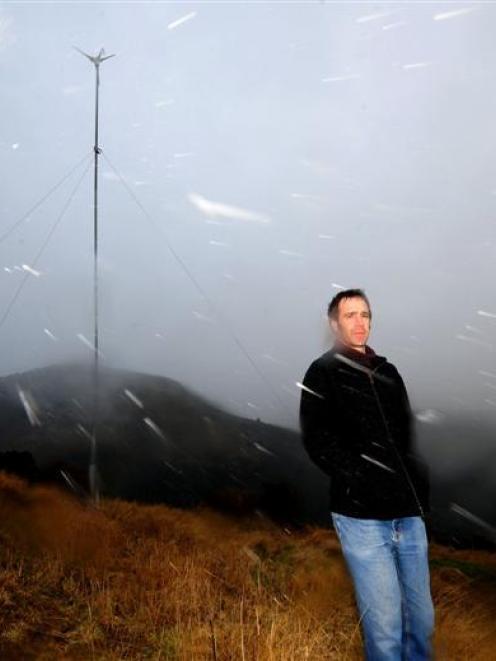 The 500 residents of Waitati, a township 19km north of Dunedin city, are showing how to live a sustainable lifestyle. Sarah Harvey reports on how "people power" can make a difference.
Residents of the seaside settlement of Waitati are building on their "1970s hippie roots" and are remodelling the township into a hub for energy-saving and sustainability.
In the backyards of many Waitati residents' homes are flourishing vegetable gardens, hen houses and composting toilets.
Not for them, petrol-guzzling vehicles; instead a proposed "hitching" scheme could see residents wait at designated pick-up points to save on petrol and cut environmental impacts.
The Waitati Energy Project is the driver of the movement and co-ordinator Scott Willis, a University of Otago lecturer in anthropology and Waitati resident, is amazed at the will in the community to get things done.
The turning point came in 2006 when the area was cut off by floodwaters.
Houses, infrastructure and crops were damaged, and residents realised they could not rely on centralised authorities for help.
They needed to help themselves.
"I recall standing on a bridge that had a tree branch caught under it, and as the floodwaters rose, the town sandbagged to protect homes. I remember Civil Defence turning up and we had already done everything to protect our homes," Mr Willis said.
The residents on low-lying land were moved to the home of another resident who lived on the hill.
After the flood the community started talking of ways they could strengthen relationships and deal with future "extreme climatic events".
Some of the ideas went back to the "1970s hippie element" the town was based on, but people had moved on and were building on that history with more "impetus", he said.
"There is a more collective approach. We are taking those lessons from about 30 years ago and adapting them to learn new lessons about energy saving.
"We have to help each other in our community. We can't sit back and wait for a centralised authority to take action."
The primary concerns are climate change and peak oil, and the community realises it needs to do something now rather than later.
There are plans, albeit down the track, for a wind turbine to power the settlement and their own power company to run it.
Although it was more a "wish list" than a reality, Mr Willis said the group had been looking at private land on the top of Wetherston Hill, near the settlement, for a single turbine which would provide enough energy to power the whole community.
Dunedin company Powerhouse Wind is working to complete a functional prototype of a single-blade wind turbine to place at a site in Waitati in the next couple of months.
It would generate sufficient power for one house.
Mr Willis said there were also plans for a community-owned power company so residents would not have to rely on the national grid.
Meetings of the Waitati Energy Project were held on a regular basis, there had been eight so far this year, with residents from Evansdale, Warrington and Seacliff included.
Waitati resident Mark Dickson, who with his wife Rayna owns the house which used to be the Waitati general store, said people were becoming more aware of climate issues and more able to do something about it.
They had done many things to make their home warmer and more energy efficient, including laying black polythene plastic and wool insulation under the house to stop moisture and cold from rising, and re-gibbing and insulating the walls.
They had also installed some double glazing and a wetback which heated their water.
Recently installed radiators would be heated by the water from the wetback which was to be stored in a 450-litre cylinder, the size of which meant the overall heat of the water stayed higher.
Other residents were installing energy-saving light bulbs, solar power, wetbacks on their woodburners and radiators which were heated by the hot water from the woodburner or by solar power.
An "edible garden" group had started a community garden where eight families were pooling together to grow food collectively.
The children were in on the food-production act too.
The Otago District Health Board recently granted Waitati School $5000 to help extend its kitchen garden.
The grant would be used to extend their community edible garden and to buy equipment to be used in the former dental clinic which has been converted into a kitchen.
Teacher Mikaela Wilson said having an edible garden allowed the children to take control over their own health and well being, as well as providing a resource for the community.
Acting principal Jane Fitzgerald and husband David were also looking at expanding education to include teaching about energy sustainability and the environment, Mr Willis said.
He said an email list of people receive regular updates about the project as the township seeks to lower its carbon footprint by developing an energy resilient system within five to 10 years.
The Waitati Energy Project group is holding an expo at the Waitati Hall on Sunday, 10am to 4pm.
There will be speakers and stalls on topics including solar energy, wind energy, wood lots, woodburners, energy efficiency insulation, hybrid cars and bikes, and ride-shares.