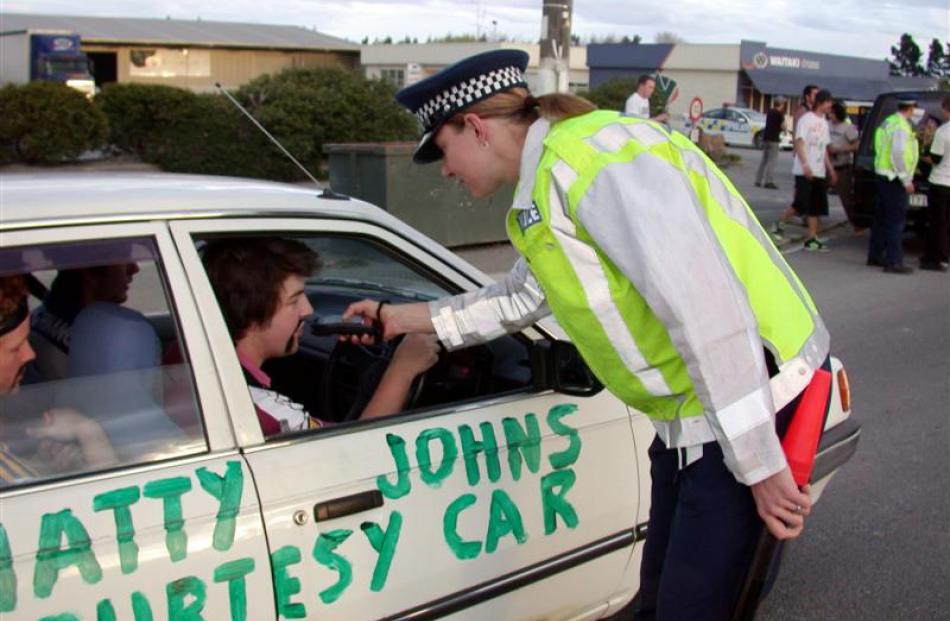 The Undie 500 student car rally left Christchurch for Dunedin yesterday. This year, organisers are touting it as more community focused, following three years of ructions at the Dunedin end. Debbie Porteous looks at the history of New Zealand's most infamous rally.
It has been 21 years since the first Undie 500 student car rally and for many years it was a smooth ride to Dunedin from Christchurch, but the ugly scenes in 2006, involving riot police, arrests and fires, soured the rally's reputation and the city withdrew the welcome mat.
This year, organisers of the Undie 500 have rebranded it as a charity drive in the hope that it will bypass the trouble that has followed it in the past three years.
Organised by the Canterbury University Engineering Society, the rally was first held in 1986 and involves students driving south in decorated vehicles bought for less than $500, stopping at designated pubs along the way.
Last year, the rally was officially cancelled after the 2006 and 2007 rallies descended into chaos, requiring the attendance of riot police to bring them under control, but people gathered in Castle St in Dunedin's student quarter anyway, disorder ensued and, again, dozens were arrested.
Not quite ready to accept things will be different this year, police will greet rally-goers, and Dunedin party-goers using it as an excuse, with an operation involving dozens of officers.
Extra staff from the University of Otago's security team, Campus Watch, are rostered on and have made special visits to North Dunedin flats in preparation for the anticipated disorder, while the city's firefighters are on the alert and council rubbish collectors are at the ready for the big clean-up.
By 7am tomorrow, it should look like nothing ever happened in Castle St. Of course, nothing may have happened. After all, the annual pilgrimage itself created little trouble until 2006.
In that year, unofficial cars joined the event. The night after the rally arrived in Dunedin, things got out of hand.
Fifty-six students were arrested in Castle St, mainly on charges of disorderly behaviour. The next year was worse, with 69 arrests and more than 70 fires set.
More then 30 were arrested last year when partying continued even though the official rally was cancelled.
In 2007, former rally organiser Steve Guiness told the Otago Daily Times that, for much of its history, the Undie 500 had been a novel event with its focus on decorating cars and enjoying the drive south rather than causing trouble in Dunedin.
How the rally was started is unclear, but former Ensoc president William Corke said one suggestion was it began unofficially in 1987, with a small group of students who dressed up and drove to Dunedin for a rugby match.
It began officially in 1988, launched to tie in with an annual rugby match between Canterbury engineering students and University of Otago surveying students.
That match still happens, alternating each year between Dunedin and Christchurch.
This year, it was held in Christchurch.
Rather than travel south by bus, 1988's engineering students decided to buy cars valued at less than $250 and decorate them according to the type of engineering they were studying.
Electrical engineering students added lights to their vehicles, mechanical engineering students built catapults and levers and the civil engineering students built big structures.
The event grew in popularity and was extended to include all Canterbury students and vehicles decorated in a number of themes, from Spice Girls in 1997 to batmobiles in 2005.
Engineering students remained keen to show their technical skills, with some spending weeks on their entries.
In 2004, the organisers decided to cap the number of vehicles to 150 for the first time to prevent overcrowding in the six scheduled watering holes on the trip south.
Vehicles had to have a warrant of fitness and a sober driver.
Since then, keen participants have lined up from 6am on the day registrations opened, eager not to miss out, and many have had to be turned away.
Before 2006, there were few reports of trouble associated with the event.
In 1995, the ODT reported one student arrested and charged with assault during the event, and, in 2005, Canterbury University spoke to two students following incidents in Oamaru.
While couch and rubbish burning in the student area the weekend of the Undie 500 had kept the Fire Service increasingly busy since 2003, no large police presence was required until 2006.
Ensoc's 2009 president, Carl Shrimpton, has touted this year's event as "far more community friendly", scheduling the rally away from the traditional date around the August university mid-semester break to try to ensure less drunken behaviour, and also asking participants to bring cans of food with them for food banks.
However, some of the focus of the event is still very much on alcohol.
Ensoc has publicly encouraged Dunedin licensed premises to provide entertainment and food to draw people to a more controlled environment, a plea which it describes on its website as: ". . . hook us up and throw some deals around so that we can still have a mean time".
Participants are also reminded on the website how important it is to behave this year.
"We have brought the Undie 500 charity drive back for you, but it will require everybody's input to make it a success.
"We want and need to show Dunedin why we are doing this, the tradition, the cars, and the rip-roaring good time that it is, and show them why it is held so dear to the students of the University of Canterbury."