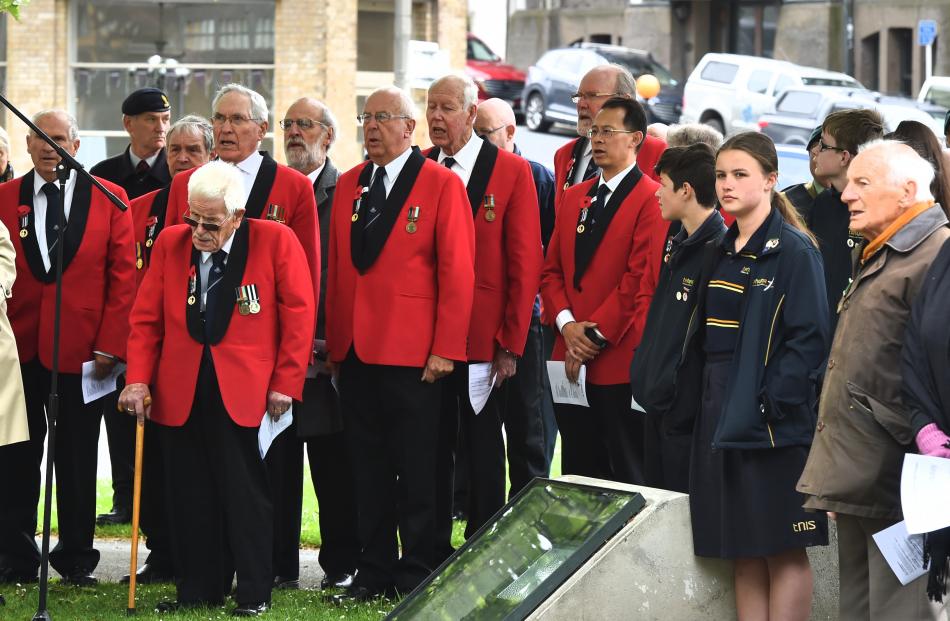 The guns of World War 1 fell silent at 11am on November 11, 1918 but the damage the war caused lingered for decades afterwards, Dunedin RSA president Lox Kellas said at Dunedin's Armistice Day service yesterday.
For the past five years, the annual service has focused on the centenary of the 1914-18 war.
The 101st anniversary of the end of the war was a fitting time to remember that in 1919 New Zealand had been ill-prepared to manage the needs of returned servicemen and women, Mr Kellas said.
"Nineteen hundred and nineteen saw the last draft of men and women repatriated home from Europe, to parades, galas, local receptions and the erection of war memorials.
"The stoicism of the time blurred the problem of the mental and physical scars the war left on the survivors ... many returned with lost limbs, shrapnel still embedded in their bodies, and suffering from what was then called shell-shock.''
While physical wounds could be seen and often successfully treated, post traumatic stress disorder was poorly understood and little infrastructure existed to treat those who suffered from it, Mr Kellas said.
"Social services had been run down during the war, and thousands of men were given no medical help by the State for their psychological or psychiatric conditions.
"They were never the same, they never talked, and wives and mothers struggled to keep families together because their damaged father, son or brother could not work ... the true numbers may never be known, there was no duty of care.''
People were now wiser to the effects of war, and a proper watch was kept on the wellbeing of those who served in today's dynamic, confusing, confronting military deployments, Mr Kellas said.
"We have an enduring duty of care for our service people, and we must be vigilant in recognising that their conditions do not always present immediately.
"Those who send our people away are responsible for them, both overseas and when they return home ... it is timely to remember the last line of the Ode: `we will remember them', but do we?''
Dunedin Mayor Aaron Hawkins and local MPs Clare Curran and Michael Woodhouse were among about 200 people at the service, which included several serving service people and veterans.