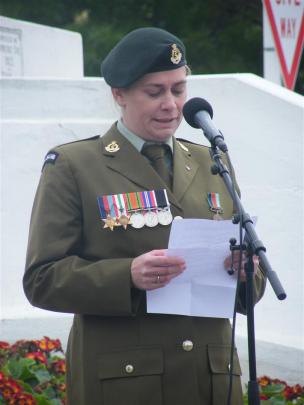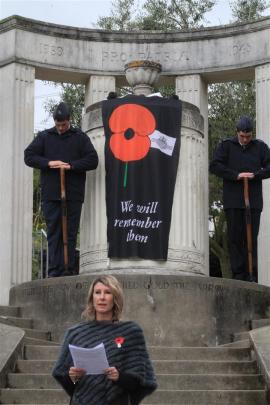 "It's a song that gives us a lump in our throats and, usually, a tear in our eyes.''
Yesterday, the evocative Last Post was played for a gathering at the Oamaru Armistice Day service.
About 40 people attended the North Otago Returned and Services Association (RSA) Garden of Memories in Oamaru about 11am to hear Waitaki Mayor Gary Kircher speak about the significance of the moment, and the lonely bugle tune that so many associate with remembering those who died in war.
His sentiment was echoed by former Royal New Zealand Air Force helicopter pilot and Waitaki district councillor Kelli Milmine who said "we should recommit ourselves to enjoy a safe and peaceful world''.
And it echoed across the south.
While there was no formal service at the Invercargill Cenotaph, about 20 people gathered at 11am for an impromptu service. Invercargill RSA chairman Norm Wilson laid the wreath.
The Ode of Remembrance was recited, as well as the 23rd Psalm, "The Lord is my shepherd'', and a moment's silence was observed.
About 50 people attended a service and commemorative wreath-laying ceremony at Te Anau War Memorial, organised by the Fiordland RSA.
Its president, Geoff Trumper, spoke, piper Ann Robbie played Piper's Lament and John Fraser, of Te Anau, lowered the New Zealand flag.
About 20 people observed a minute's silence at the Wanaka War Memorial to acknowledge Armistice Day which brought an end to World War 1.
Among the group were three Wanaka women with connections to men who served in World Wars 1 and 2.
Avis Munro's husband, Ernie, served at Cassino in World War 2 and her father, Jim Roy, was awarded the Military Cross twice in World War 1; Lesly Stewart's father, Leslie Ogg, served on a mine-sweeper in World War 2; and Catherine Little's uncle, Jack McDougall, was wounded at Passchendaele in World War 1.
About 50 people, including Queenstown Lakes Mayor Jim Boult and Queenstown and Arrowtown RSA members, attended a brief ceremony at the Soldiers Hill Cenotaph in Arrowtown.
The service was led by chaplain the Rev Dr Carlton Johnstone and included piper Roddy Maxwell and bugler Warren Cox, both of Cromwell.
The service was followed by a lunch at St John's Presbyterian Church Hall.
In Central Otago, a small gathering paid their respects at a service at the Alexandra War Memorial.
Jolting the Central Otago town was a 25-pound field gun which was fired to mark proceedings.
Addresses were led by Central Otago Mayor Tim Cadogan and Alexandra Baptist Church pastor Craig Ashby.
An RSA singing group also sang the New Zealand national anthem.
Although it was a quieter service compared with previous years, Alexandra-Clyde RSA president Debra Warburton said it was great to see the attendance of Alexandra Primary School pupils.
"They're the ones who are going to keep the tradition going. We really encourage schools to come along and be a part of it.''
- Hamish MacLean, Laura Smith, Karen Pasco, Mark Price, Guy Williams, and Adam Burns contributed to this report.